The California condor once soared over large parts of the southwest in great numbers. But by the early 1980s, less than 25 remained. A 30-year effort to re-introduce the bird has been largely successful - about 400 live in northern Arizona, southern Utah and parts of California. But they still face danger from something that almost led to their extinction. Lead poisoning.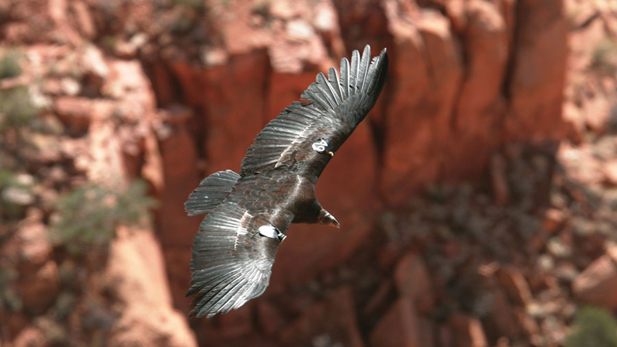 A California condor soars near the Grand Canyon. It is the most endangered bird in North America. It's also the largest, with a wingspan of about nine feet. (PHOTO: Peregrine Fund)
A study released recently by the Proceedings of the National Academy of Sciences reported that the endangered California condor continues to be threatened by an "epidemic" of lead poisoning. The birds of prey scavenge carcasses, many of which are full of lead bullets and shot. Some of the lead-filled carcasses were left behind by hunters, others by poachers. Some are even left behind by otherwise well-intentioned rural residents who, as a way of life, dispose of varmints and wounded animals by shooting them.
Wildlife officials have been trying to get hunters to voluntarily use other forms of ammunition, with mixed results. They report high rates of compliance in Arizona and California, but not in southern Utah. Only California has an outright ban on lead ammo in areas where condors thrive.
Environmental groups such as the Tucson-based Center for Biological Diversity want a ban like California's extended nationwide. The center and six other groups filed a lawsuit in early June to try to force the Environmental Protection Agency to regulate lead-based bullets and shot.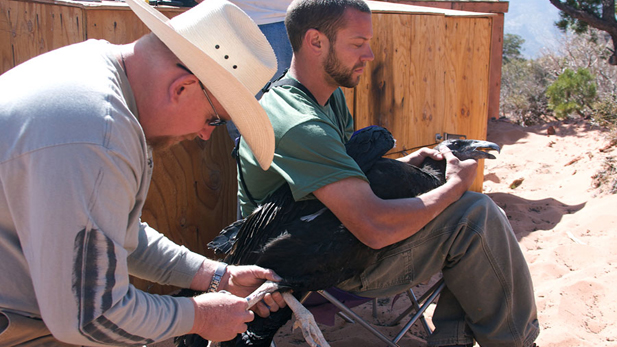 Chris Parish (left) and Eddie Feltes of The Peregrine Fund draw blood from a young California condor that hatched at the Grand Canyon. Currently, every free-flying condor in Arizona is captured and tested for lead poisoning twice a year. (PHOTO: The Peregrine Fund)
Hunters and firearms enthusiasts responded by contacting their lawmakers. The Sportsmen's Heritage Act (HR 4089) passed the U.S. House in April with a bi-partisan majority. The Senate added the act as an amendment to the 2012 Farm Bill, which passed 64 to 35 recently.
The issue is complex, as we learn when we talk separately to Jeff Miller of the Center for Biological Diversity and Chris Parish of The Peregrine Fund. Miller and Parish both agree the lead-poisoning is a grave threat to the condor. But they disagree on how to reduce lead-based ammunition. Parish works with the birds, helping to raise them in captivity, release them into the wild, and monitor their behavior post-release. He's also a hunter. He argues passionately for continued education programs, where he's seen widespread compliance. He fears the litigation and legislation will ultimately lead to less compliance, and ultimately more poisoned birds.
Miller, meanwhile, says lead-based ammunition is dangerous to both condors and hunters.
More resources:
Read The Sportsmen's Heritage Act - HR 4089:
hr4089-text
View at Google Docs | Download File
Center for Biological Diversity's Get The Lead Out campaign
EPA's Toxic Substances Control Act
National Rifle Association
U.S. Sportsmen's Alliance
National Shooting Sports Foundation