The Arizona Game and Fish Department and the Arizona-Sonora Desert Museum are trying to find homes for about 80 desert tortoises.
About 30 tortoises are being held at the museum and 50 more are at the homes of people who cannot care for them any more, says Mark Hart, a spokesman with Game and Fish.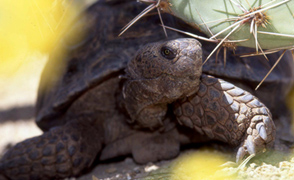 (PHOTO: Photo from the AZ Game and Fish website)
"There's typically a surplus of tortoises here, but the situation we're running into now is that the Desert Museum is at capacity, so we've got to get some adoptions done," Hart says.
Because tortoises can live up to 100 year,s many times they outlive their owners, he says.
"And though they are low maintenance pets, there is a list of requirements that must be met before adopting one," Hart says.
Click here for the adoption checklist
View at Google Docs | Download File
For more information go to the Arizona Game and Fish Department website.