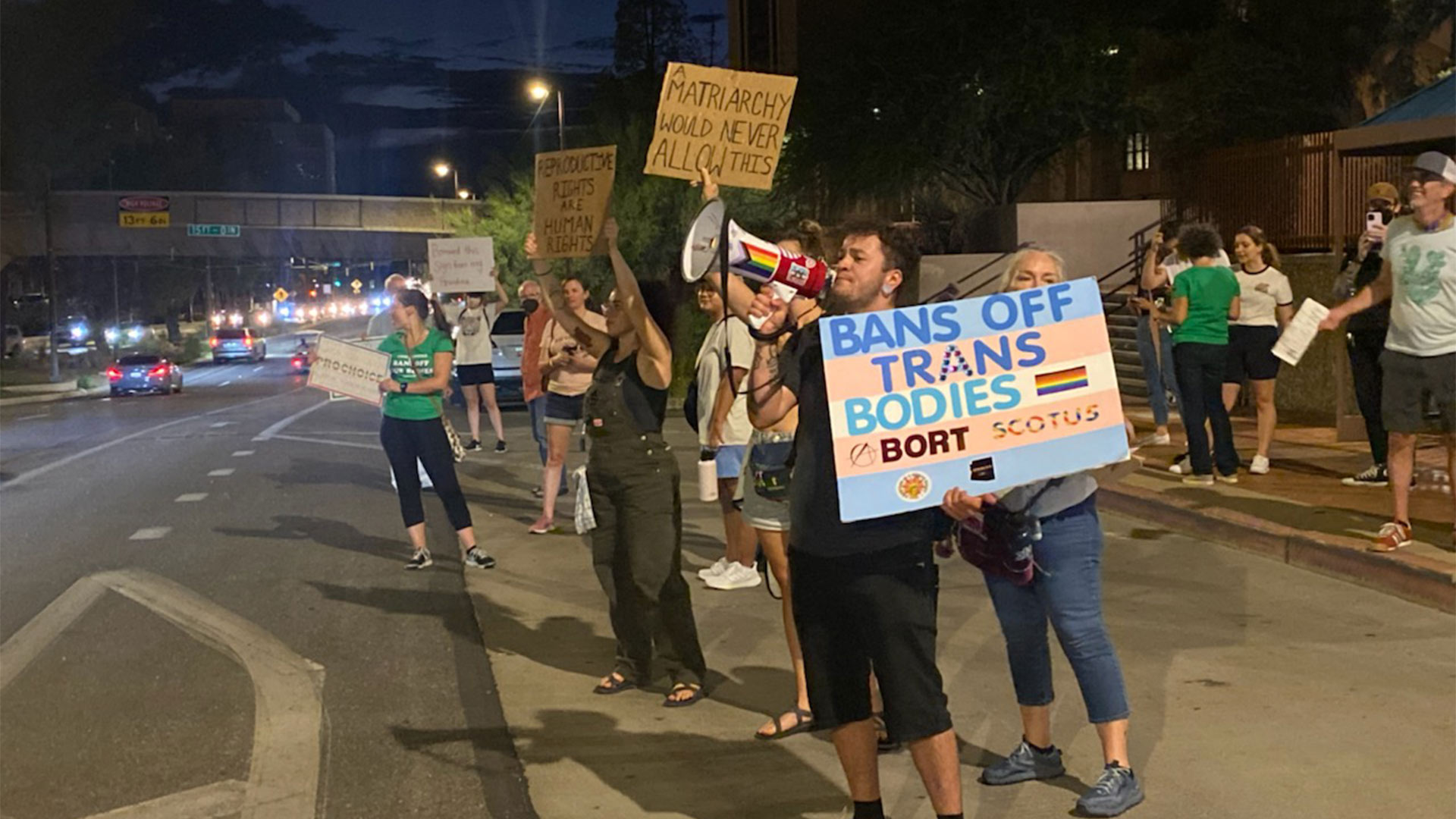 Protests begin outside of the Pima County Superior Court following the reinstatement of an abortion ban on Friday, Sep. 23, 2022.
Paola Rodriguez, AZPM
A state court of appeals judge in Tucson temporarily blocked Arizona's old abortion ban Friday, allowing some abortions to resume.
The ban was unenforceable for nearly half a century but a Pima County Superior Court judge agreed to let the law go back into effect last month, citing the U.S. Supreme Court decision overturning Roe v. Wade.
The law makes it a crime to provide an abortion unless necessary to save a pregnant person's life.
But state leaders offered dueling interpretations of Arizona's laws on abortion, creating confusion as patients were left without care.
Planned Parenthood asked an appeals judge to block the old law while the organization fights the ban in court.
Judge Peter Eckerstrom agreed in a decision Friday, citing what he called "the acute need of healthcare providers, prosecuting agencies, and the public for legal clarity as to the application of our criminal laws."
A new law passed this year banning abortion after 15 weeks of pregnancy remains in effect.
Planned Parenthood said the decision will allow it to resume abortion care in the state.
"Today's decision provides a desperately needed sense of security for both our patients and providers," Alexis McGill Johnson, president and CEO of Planned Parenthood Federation of America, said in a statement. "We can now breathe a sigh of relief and serve patients. While the fight isn't over, for now, Arizonans will once again be able to make their own decisions about their bodies, health care decisions, and futures."
The decision is a setback for Attorney General Mark Brnovich, a Republican who has pushed to reinstate the old ban.
Brittni Thomason, a spokesperson for the attorney general, said in a statement: "Our office understands this is an emotional issue, and we will carefully review the court's ruling before determining the next step."