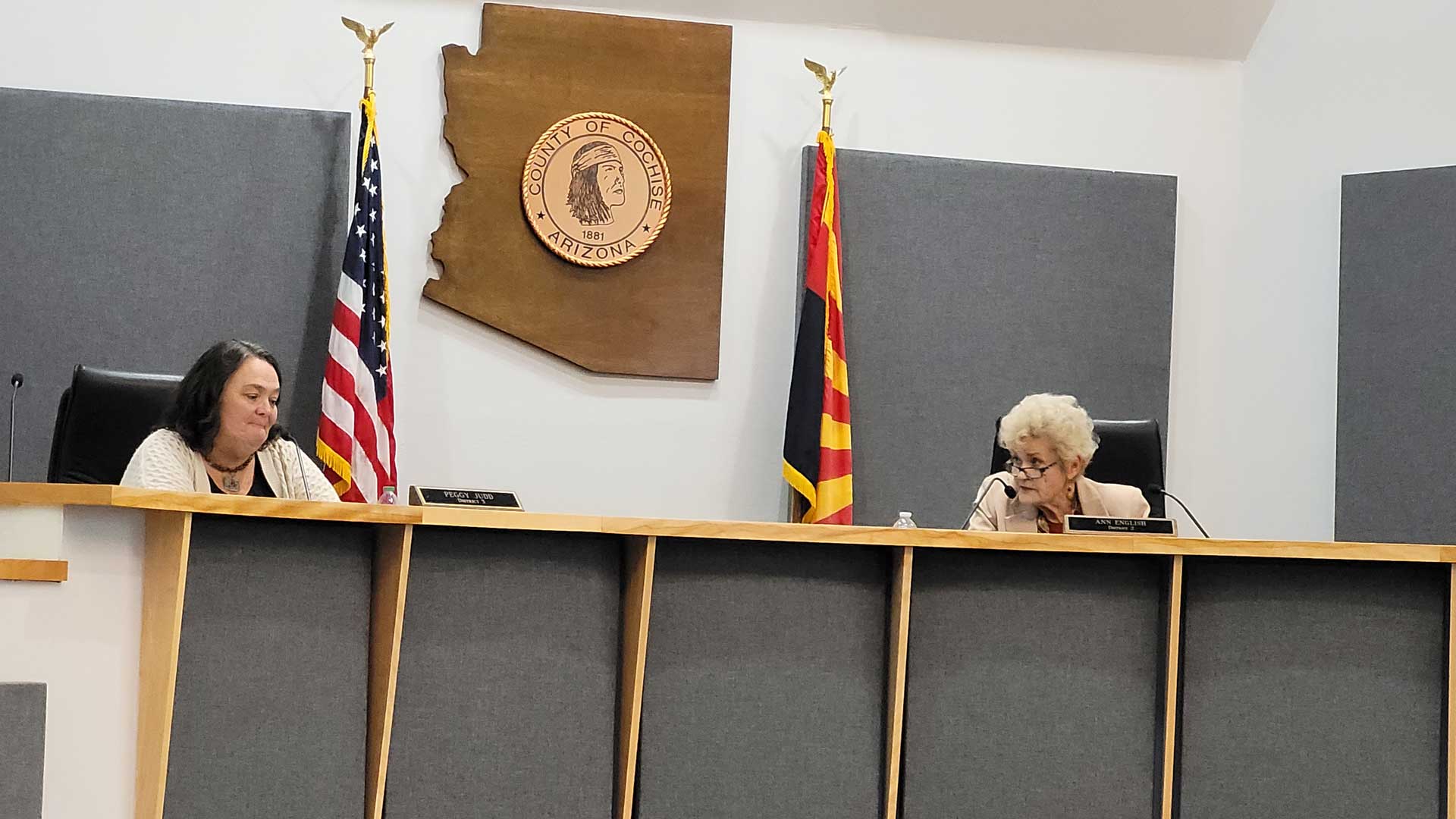 Cochise County Supervisors Peggy Judd and Ann English vote to certify the November 2022 election. December 1, 2022
Summer Hom, AZPM
After weeks of heated debate, delay and discussion surrounding unfounded claims of election and voting machine fraud, the Cochise County Board of Supervisors voted 2-0 to certify the 2022 election results after a judge issued a court order for them to certify.
Supervisors Ann English and Peggy Judd voted in favor of certifying the results. Supervisor Tom Crosby was absent and did not vote on the matter.
Judd said that she felt that she had to certify because of the court order, but said that she's not done fighting.
"I am a rule of law person, but I have statutes in front of me that said something to me," said Judd. "And I can't say enough about how important this effort was that we made. And I am not ashamed of anything that I did. Today, I feel that I must because of the court ruling, and because of my own health and situations that are going on in our lives, I feel like I must follow what the judge did today."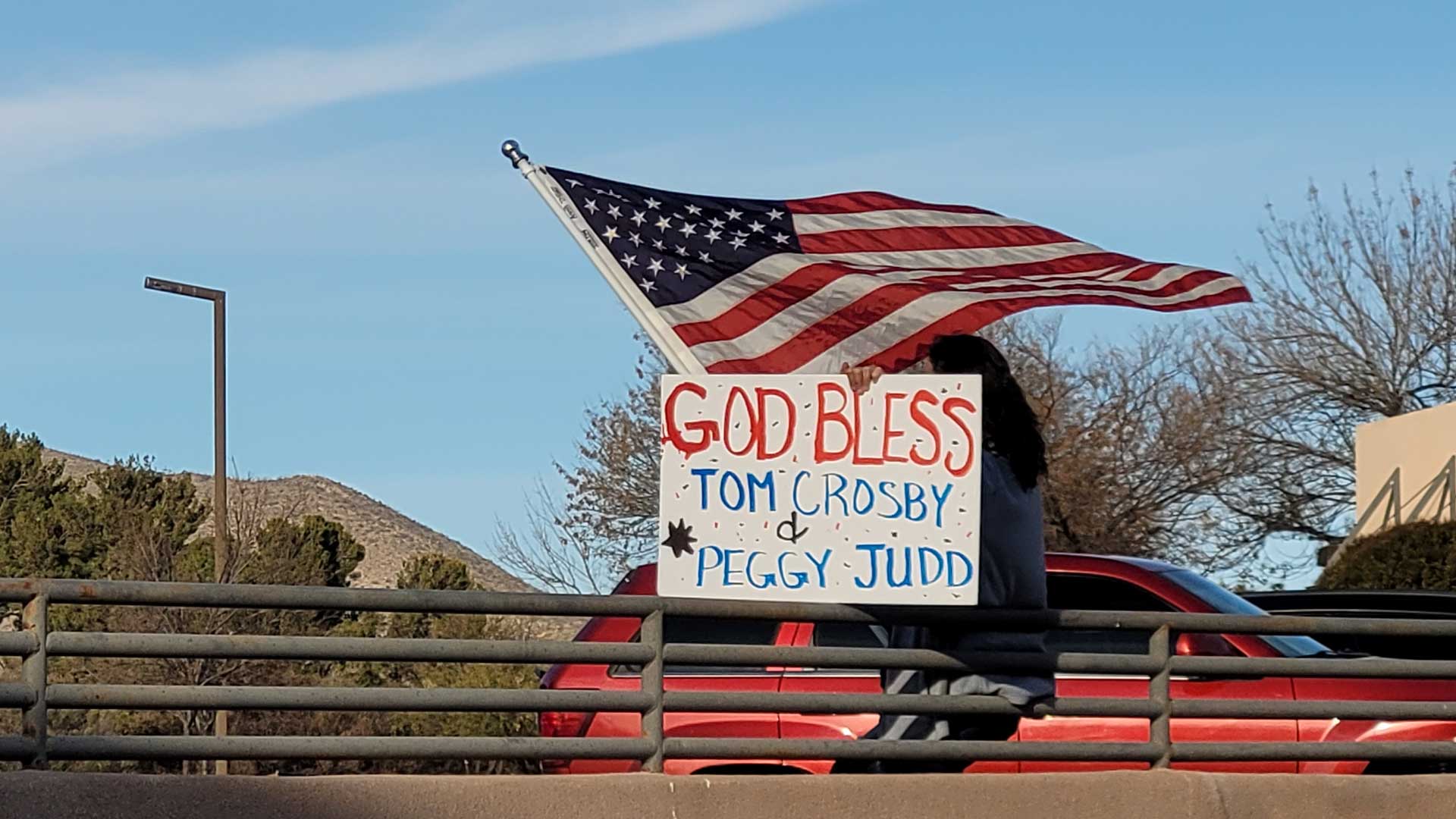 Protestors praise Cochise County Supervisors Tom Crosby and Peggy Judd for holding up certification of the 2022 election.
Summer Hom, AZPM
Crosby and Judd supporters murmured in disappointment that they'll also keep fighting, while others said hallelujah.
English said that it was time to move on.
"So, I think it's time for us to move forward, to look at the issues that are important to all the citizens in Cochise County," said English. "And while this one was important, now is the time for us to move forward and look at the other issues that are going to move us forward as a county."
Pima Superior Court Judge Casey McGinley ruled in Thursday's afternoon hearing that the Cochise County Board of Supervisors overstepped their legal authority by not certifying the 2022 midterm election by the Nov. 28 deadline.
He issued a court order for the board to certify the votes in an emergency meeting Thursday at 3:30 pm and for the certification to be complete by 5 p.m.
McGinley warned the board in the hearing at the Cochise County Superior Court that if the board failed to certify the results, they would be in contempt of court.
Under ARS 16-642, McGinley stated that the county board of supervisors has a non-discretionary duty to certify election results no earlier than six days after election day and no later than 20 days after election day.
He added that the only exception made in that statute is if the county is missing results from a precinct, and in that case, the county can only delay certification for six days afterward. If those results aren't found by the sixth day, the board of supervisors must certify without that precinct's results.
Since the board of supervisors did not provide evidence of missing results from county precincts, and instead, said the reason for the delay was due to complaints that public comment was not allowed at the meeting where certification was originally supposed to take place, McGinley ruled that the board overstepped its legal authority.
The supervisors had secured legal counsel from McDaniel McCauley in an emergency meaning Thursday morning, but McCauley did not appear in court.
The board represented themselves Pro Se. Crosby asked the judge for a continuance of the hearing until Monday or Tuesday as requested by McCauley. But McGinley denied that request.
After certifying the results, the board also voted 2-0 to cancel the Dec. 2 special meeting, which was planned as a face-down between those who opposed certifying the election and a representative from the Arizona Secretary of State's office.
Andrew Ganoa, attorney for Arizona Secretary of State Katie Hobbs, said in court that "The Secretary of State has no desire to participate in such a charade."
A group of four protesters stationed themselves outside the board of supervisors meeting room with two American flags and signs that said "God bless Tom Crosby and Peggy Judd," while others jeered at journalists.