(VIDEO: AZPM)
For the last two weeks, Mexican government officials in Arizona have been actively reaching out to Mexican citizens visiting and living in the state about the current status of the controversial anti-immigration law known as SB 1070.
On June 25, immediately after the U.S. Supreme Court upheld one provision of the law, the Mexican government released a statement calling the ruling a failure.
Mexican officials say upholding the part of the law that requires local law enforcement to question a person's immigration status could lead to racial profiling.
"And also violations of basic human rights," said Isaías Noguez, political affairs representative at the Mexican Consulate in Tucson. "So our duty now is to try to protect the rights of our people regardless of immigration status."
Thousands of calls from concerned Mexican citizens are pouring into the Mexican consulates in Tucson, Phoenix, Nogales, Douglas and Yuma, Noguez said.
"People are concerned," he said. "Whether they are here legally or undocumented, they have the same questions."
That's why the Mexican government's office of international relations in Arizona printed a three-page brochure titled "Updated guide on the law known as SB1070," which includes a summary of the law, the part that was upheld, and the parts that were struck down.

It answers the questions, 'What precautions should I take?' and 'What are my rights?'
The Mexican consulate is handing out those brochures and holding community forums with local organizations to share information about what to do when interacting with local police.
"This is basic in the message of the Mexican government, that they have to respect the law of this country, they have to respect traffic law and any kind of law that could lead to having problems with authorities," Noguez said.
The Consulate of El Salvador in Tucson and consulates from many other Central American countries in Phoenix are in constant communication about the law, but Noguez says the busiest is the Mexican consulate.
Noguez says it's difficult to measure the negative impact of SB 1070 because there is no data to show how many people have left Arizona since 2010, but numbers do show that there has been a loss of business since then.
"On a diplomatic level, we can say that it's challenging," he says. "Especially when we have to discuss topics between Mexico and Arizona, because we are not just dealing with immigration, we deal with trade, with business, with education, so when we have to talk to stakeholders, it is complicated."
When SB 1070 was signed into Arizona law in 2010, the Mexican government as "friend of the court" asked a federal judge to strike down the law, because Mexican officials were concerned it would allow racial profiling by giving local police the authority to create a description of what an illegal immigrant looks like.
Although the Supreme Court upheld one part of the law, U.S. District Court Judge Susan Bolton must still decide how to enforce that part of the law.
"Until then, all we can do is keep people informed," Noguez said.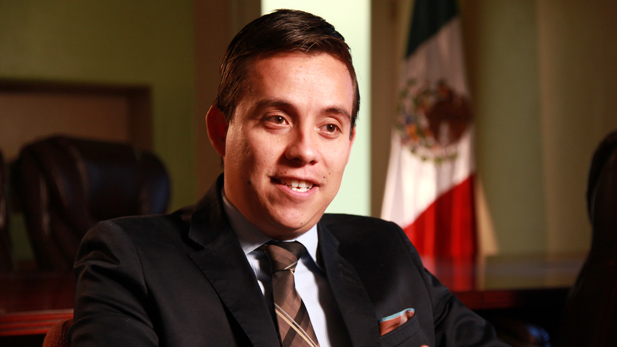 Isaías Noguez, political affairs representative at the Mexican Consulate in Tucson (PHOTO: Fernanda Echavarri)