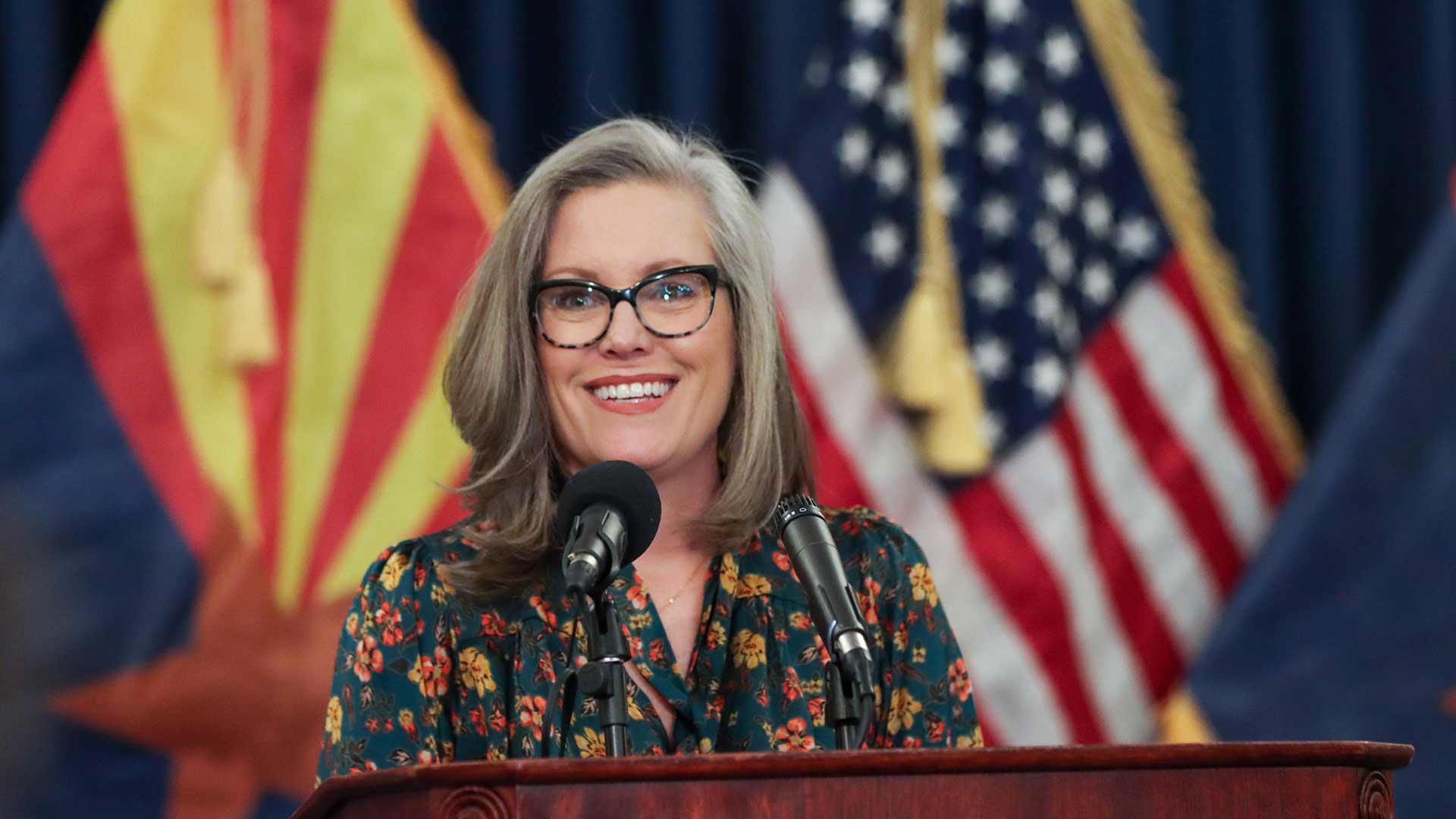 Arizona Governor Katie Hobbs (D). January 2023
Emily Mai/Cronkite News
Arizona Gov. Katie Hobbs signed her sixth executive order Wednesday, establishing an independent prison oversight commission to improve the transparency and accountability of Arizona's corrections system.
The order comes after a federal judge this month directed the Arizona Department of Corrections, Rehabilitation and Reentry to make "substantial" changes to improve medical and mental health care at Arizona prisons.
"I don't think there's any disagreement here that there has been a lack of transparency into these really serious corrections issues and a lack of urgency to deal with them and change the way we're treating folks in our custody in the state," Hobbs said Wednesday during a news conference in the Arizona State Capitol Executive Tower.
The commission will be responsible for inspecting the department's prison facilities and its records. The commissioners will talk with prison facility staff and inmates about medical and mental health care, security, cleanliness, communication, educational programming, and access to basic necessities.
"Establishing an independent external oversight commission will facilitate the collection and public disclosure of unbiased and accurate information about the state of Arizona's corrections system," the executive order states.
The 12 commissioners will include four legislators selected by Republican and Democratic leaders of the House and Senate, and eight appointed by Hobbs. Those eight will include someone from an inmate advocacy organization, someone with a background in rehabilitative programs, two formerly incarcerated Arizonans, a family member of a recently incarcerated person, and experts with medical and mental health care experience.
The commission is to report its findings in November.
Hobbs said the commission's responsibilities and intent go beyond the scope of recent court orders requiring the department of corrections to bring conditions to constitutional standards.
U.S. District Judge Roslyn O. Silver in a Jan. 9 order directed the corrections department to bring medical and mental health care providers to a minimum caseload, develop a staffing plan for isolation housing units and provide medical and mental health care screenings within one day of a person entering the system.
"Incarcerated Arizonans should be treated humanely and decently and corrections administrators and officers should feel safe in their workplace," Hobbs said.
The executive order also follows Hobbs' nomination of Ryan Thornell, deputy commissioner of the Maine Department of Corrections, to take over Arizona's corrections department on Jan. 30.
Hobbs said Wednesday Thornell is "well aware" of the challenges the state's system faces and "the need to take some quick action to start turning this agency around."
On Twitter, Rep. Raúl Grijalva, D-Tucson, said, "I look forward to the findings of this commission and will continue to pursue solutions at the federal level to stop criminal injustices in our prison system."
This is Hobbs' sixth executive order since her Jan. 5 inauguration. Other executive orders include the establishment of an elections task force, a commission on housing, a water policy council and, most recently, a death penalty independent review commissioner.
The Arizona Freedom Caucus said on Jan. 9 it had plans to sue the governor's office for its executive orders. Hobbs said Wednesday, "I'm the governor. And I have executive authority and I'm going to use it — especially when I have continued to extend olive branches (to Republicans) and have not gotten a lot back from them in that same regard."
Hobbs also said Wednesday she would consider issuing an executive order in response to a federal judge's reinstatement of a 2021 law prohibiting an abortion if a fetus has a genetic abnormality. And she said she would call a special legislative session "if we need to" to continue the debate on whether or not to lift a cap on Arizona's Aggregate Expenditure Limit, which outlines how much K-12 schools can spend in an academic year.