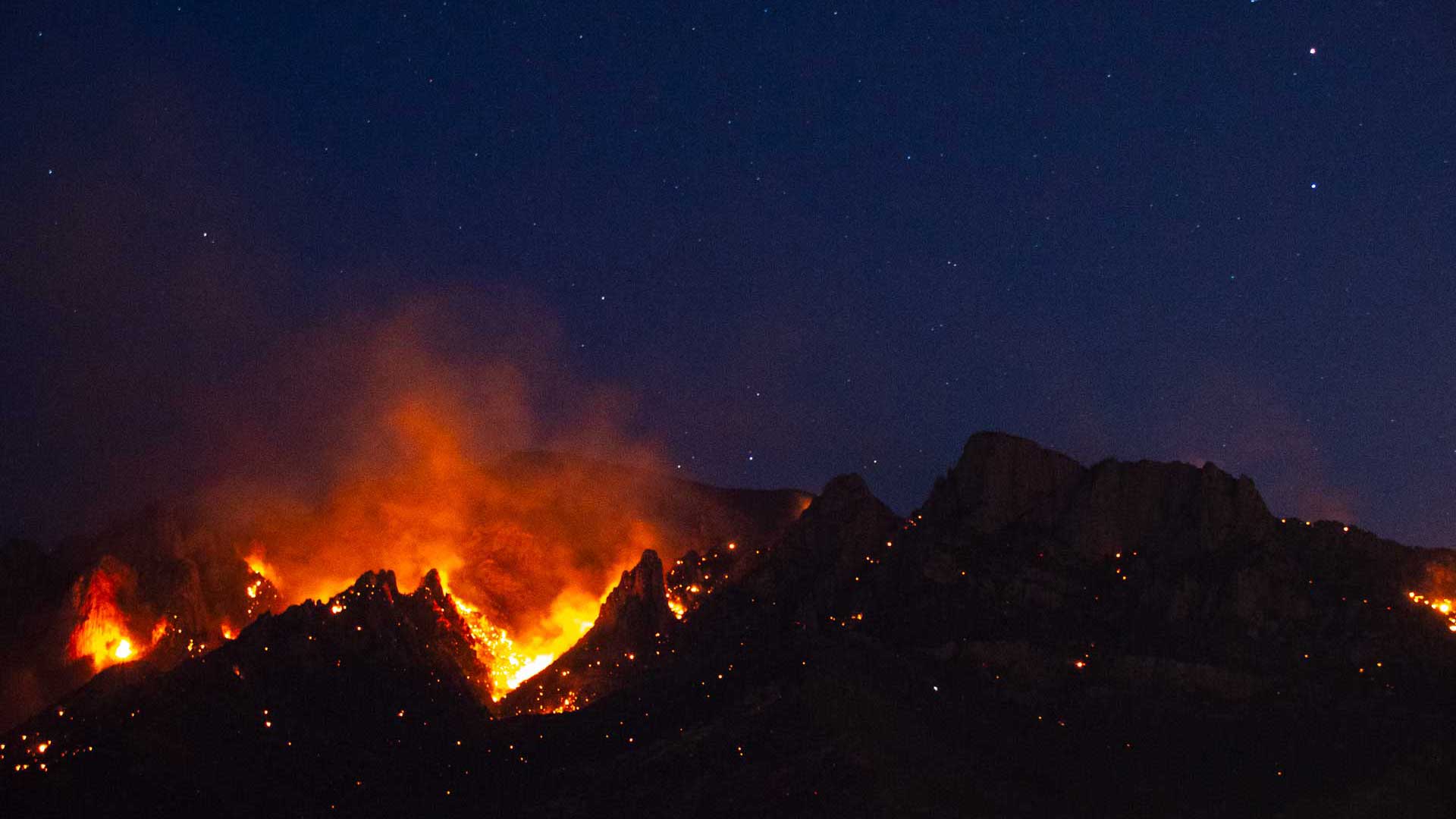 The Bighorn Fire burns on Sunday, June 7, 2020 near Oro Valley, Arizona.
Christopher Conover/AZPM
Across southern Arizona, it is the time of year when the temperatures are heating up and the land is drying out, which means the danger of wildfires is increasing.
The Coronado National Forest includes 16 different mountain ranges, often called sky islands, and covers close to two million acres. It includes familiar places like Mt. Lemmon and the Huachuca mountains.
Much of the area received plenty of rain and snow this winter and while that was great for people who wanted to ski or see an amazing wildflower bloom this spring but for Steve Miranda, the Fire Management Officer with the forest, drought is more of the norm.
"Yes, we have a good year across the west, with a lot of reservoirs getting refilled that were impacted through drought. But we don't expect that to sustain, you know? This is kind of an anomaly to have an average year, what used to be an average year. We just expect drought conditions on a regular basis because things have changed. Climate has changed," Miranda said.
When it comes to fighting fires there are a number of different tools. Included in that arsenal are the V-LATS or very large air tankers which can drop thousands of gallons of fire retardant at a time.

New Mexico based 10 Tanker Air Carrier uses DC-10 jetliners. For Tucson residents, the big planes became a familiar sight in 2020 during the Bighorn Fire in the Santa Catalina Mountains.
The company fights fires across the West and around the world.
Fire may seem destructive but that is not always the case. For the pines in the sky islands it is necessary and it can be good for grassy plains. But the desert is not supposed to have fire.
"Historically we think of those systems as not really being adapt to fire and when we see fire in those systems that is not something that we like because the native plants are not really adapted to it," said Dr. Molly Hunter, a fire ecologist at the University of Arizona.
To help assess fire damage, fire ecologists and managers now use on-the-ground observations, satellites, and drones in addition to other technology.