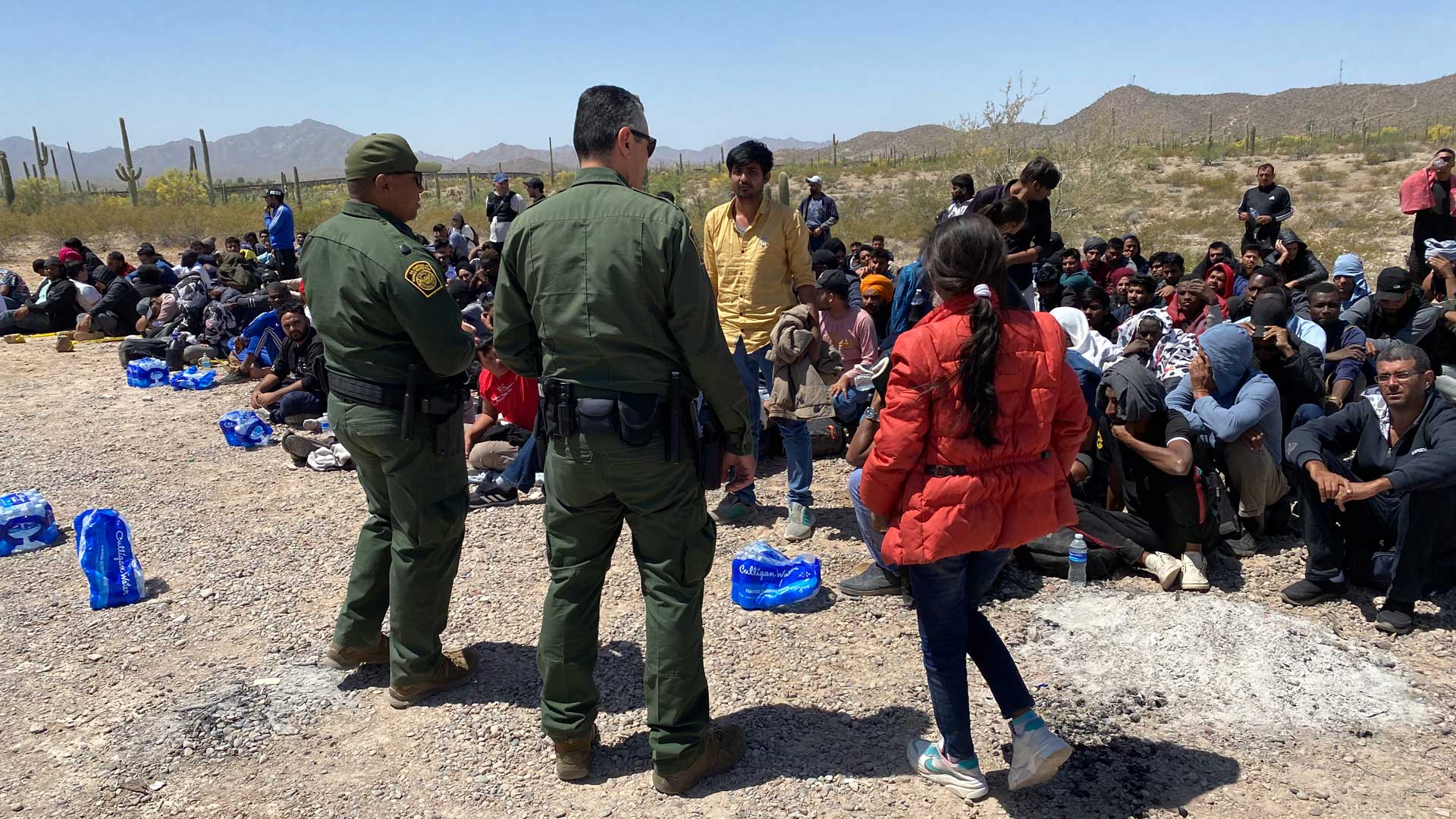 Border Patrol agents process a group of nearly 250 migrants in Ajo, Arizona, on Wednesday, May 10.
Danyelle Khmara, AZPM
On Wednesday afternoon, Border Patrol agents worked to process a growing number of migrants crossing through gaps and cuts in the border wall in a rural part of Arizona, near Ajo.
The number of migrants crossing the border there has been growing. By the time agents finished with the group on Wednesday, they processed 241 migrants from more than a dozen countries, including Bangladesh, Brazil, India, Pakistan, and Nepal.
Thursday at 9 p.m. in Arizona., a policy that's used to quickly expel migrants from the country went away as officials prepared for a possible influx of migrants at the southern border. Border officials have been using the public health policy called Title 42 since the beginning of the pandemic instead of processing all migrants through immigration law.
Carlos Salinas from Peru, was among the migrants waiting to be processed in Ajo. He hadn't heard of Title 42, but he had heard the news that he should cross the border by the 11th because it was going to close.
"They said until this month on the 11th. They said they would be closing the border," he said in Spanish.
Some of the migrants Wednesday were not thinking about the policy change. Others had heard conflicting and inaccurate information.
The policy ending is a concern, but officials on Arizona's U.S.-Mexico border are prepared, says Border Patrol's Tucson Sector Chief John Modlin.
"The closure of Title 42 is concerning," he said during a press conference on Monday. "I think the important thing is that over the last 18 months to two years, there's probably been six or seven times that we thought Title 42 was going to go away, and every time that happened we prepared for it."
Border officials have built networks with local municipalities and NGOs that work with migrants, and they have surged resources to the border, Modlin says.
He also says that holding capacity for migrants being processed is strained as Title 42 comes to an end.
The number of times border agents apprehended migrants in the Tucson Sector has increased from about 66,000 in fiscal year 2020 to nearly 250,000 in 2022.
"These numbers keep increasing," Modlin said. "This year, to date, we're about 20% over where we were this time last year, so in terms of our capacity, it's strained. What I can tell you though is that Border Patrol is not a long-term detention. Border Patrol is usually 24 to 48 hours in and out."
At that point, a migrant may go to immigration detention or an NGO that offers short-term services to asylum seekers and helps them get to their sponsors all over the country. Local NGOs, including Tucson's Casa Alitas, have also been working to increase capacity to prepare for the end of Title 42.