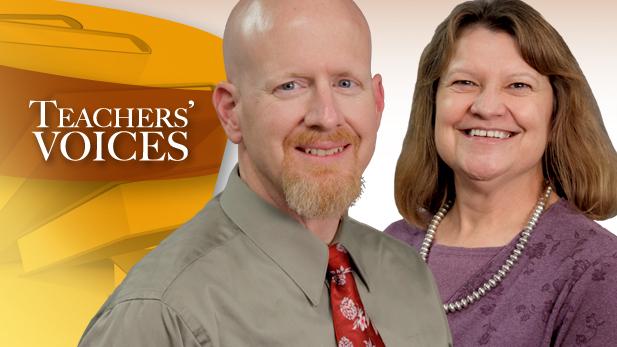 Ingrid Novodvorsky, the director of the UA Science Teacher Preparation Program, and Jack Erickson, a program graduate and science teacher at Cienega High School (PHOTO: Steve Riggs)
In cooperation with Tucson Values Teachers, Arizona Spotlight presents a special series called Teachers' Voices. These conversations between educators, administrators, and students gives them a chance to share personal stories about the struggles and triumphs of their daily school experience.
In the face of low wages, long hours, and lack of support, what can still inspire someone to become a teacher? Cienega High School science teacher Jack Erickson shares his inspiration next, as he catches up with Dr. Ingrid Novodvorsky, the director of the University of Arizona's Science Teacher Preparation Program. It's a place where students who want to teach science can gain specialized training and prep for their career in education...
Listen:
Teachers' Voices will air bi-weekly throughout 2012 on Arizona Spotlight, funded in part by The Arizona Department of Education and Cox Communications.