Wildfire management officials with the U.S. Forest Service are keeping a close eye on this year's monsoon.
Summer rains often decrease the risk of large wildfires, at least for a time. But this year, conditions have been worsened by ongoing drought.
Kristy Lund, wildfire management officer for the Coronado National Forest, says recent rains have increased moisture levels.
Most reporting stations in the forest report getting anywhere from .50" to 6" of rain in July.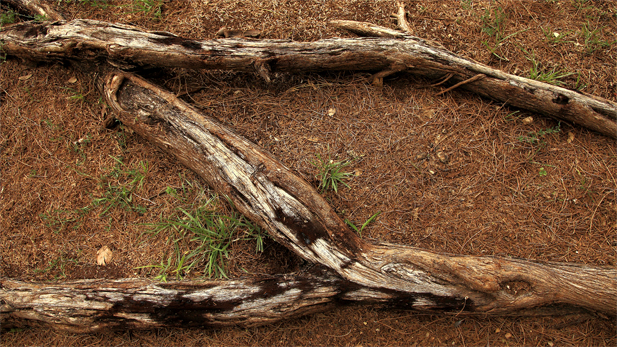 PHOTO: Mark Duggan
Wildfire managers say fuel moisture levels in the forest are at average levels for late July.
Conditions are similar in northern Arizona. Russell Copp, fire information officer for the Coconino National Forest, says a few lightning-caused fires started recently.
But with increased moisture, they've been slow to spread and easy to control.
Copp says there are several ways he measures moisture levels in forest fuels. They range from a simple visible inspection to tracking what's known as 1-hour, 10-hour, 100-hour and 1,000-hour fuels.
A one-hour fuel is a pine needle, while a 1,000 hour fuel may be a large ponderosa pine.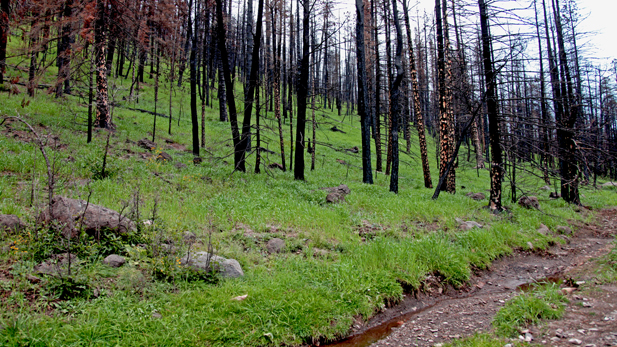 PHOTO: Mark Duggan
Summer rains often lead to explosive growth of grasses and bushes, often in stark contrast to the blackened trees that tower above.
Arizona's wildfire season hasn't been as severe as last year--no massive blazes on the scale of 2011's Wallow or Horseshoe Two fires. But that doesn't mean one couldn't start in late summer, when the rains end.
Indeed, Kristy Lund says its time to start thinking of fire season as a year round event.