Inside the Communications Building at the University of Arizona, researchers subject themselves to online abuse - reading internet comment forums for insults, dirty names, attacks and threats.
It's not directed at them. The researchers--Kate Kenski, Steve Rains and Kevin Coe--are studying the behavior of people in online comment forums, looking for patterns of what they term civility and incivility.
They're also looking at how identity, anonymity and moderation play a role in what people say on the web.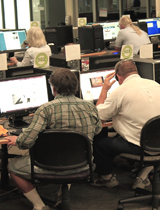 (PHOTO: Mark Duggan)
The study is funded by the National Institute for Civil Discourse.
Kenski says they're using comments accompanying stories on the Arizona Daily Star website.
After devising a methodology to measure 'civil' versus 'uncivil' comments, they looked at how anonymous postings allow people to hide behind their comments.
Rains, armed with 100-year-old research on anonymity and crowd decision making, also found that context plays a role in online anonymity. For example, he says the setting for comments on a health-related blog is markedly different than that for a political or news-related site. People are much more willing on health sites to stand by their comments and not use assumed screen names.
Comment moderation is also being adopted by some sites, attempting to corral some of the more unruly behavior of posters.
Moderators at npr.org, for example, will remove posts that they deem offensive. But Kenski and Rains both caution that such moves can be seen by some as a stifling of dissent.
The researchers also agree that some of the same standards that govern our behavior in the community are being established online.
The final study will be released soon.
More resources:
Read a research brief about online behavior from the National Institute for Civil Discourse:
NICD_research_brief1

View at Google Docs
|

Download File
Read a research paper from the UA Rogers School of Law,
Freedom of Speech, Liberal Democracy, and Emerging Evidence on Civility and Effective Democratic Engagement
:
az-legal-studies_civility-speech

View at Google Docs
|

Download File