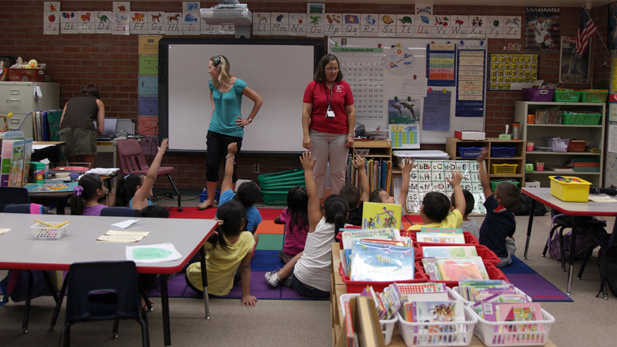 PHOTO: Fernanda Echavarri
Julie McIntyre, principal at Myers-Ganoung Elementary School visits a class during the summer.
Students in Southern Arizona are going back to school this week, after many spent the summer at home watching TV or playing video games.
Experts say those children are likely to have lost about two months worth of reading and writing skills and research shows that loss is significantly larger for students in lower-income families.
Teachers at Myers-Ganoung Elementary School in Tucson will test students' general skills in reading and writing Friday, the second day of classes, to assess the loss of learning during the summer.
Principal Julie McIntyre says about 50 children attended a summer program designed to keep their brains working. She says offering a summer program in her neighborhood, near South Rosemont Avenue and East 29th Street, was crucial.
"Students in our area, particularly students of lower income, they're not in the same environment as the wealthy or middle class," McIntyre says. "They don't have a supply of books at home, their families don't typically own a vehicle to drive to the library and sometimes their parents are uncomfortable even being in the library because they didn't grow up in the literacy culture."
With budget cuts to K-12 education, many school districts have eliminated summer school and summer programs.
McIntyre says she sets aside $11,000 to $18,000 every year to fund summer programs, and that money comes out of her general budget.
The Arizona Department of Education recognizes there is a significant loss of learning during the summer months, and John Huppenthal, the state's school superintendent, says there's a noticeable difference on the first day of school between students in different socio-economic groups, particularly in reading.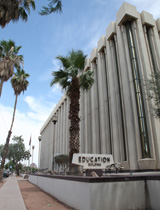 PHOTO: Fernanda Echavarri
The Arizona Department of Education in Phoenix, Az.
"The poor fall further and further behind as the school years go by, so we are putting on a major push through our 21st century program and through Title I to create summer schools," Huppenthal says. "One thing we like about summer programs is that it gives schools a chance to start from scratch and try out creative new ways to keep children and we think we're having some breakthrough there."
Enrollment is initially high for many summer but as the weeks go by many students stop attending. Parents sometimes feel they don't have to take their kids to school because it's not the regular academic year, Huppenthal says.

The National Summer Learning Association reports that the loss of learning during the summer is cumulative and about 75 percent of the achievement gap in reading in high school can be attributed to summer loss.
The gap between children born after 2001 to families of lower-income and the rest of the population is 40 percent larger than the achievement gap between the same group of students born 25 years earlier, the association says.
Teachers at Myers-Ganoung Elementary School will try to review basic information with students in the first weeks of school, but McIntyre says, teachers have to move on and teach new material.
"We've already lost two months during the summer, we don't want to lose any more time," she says.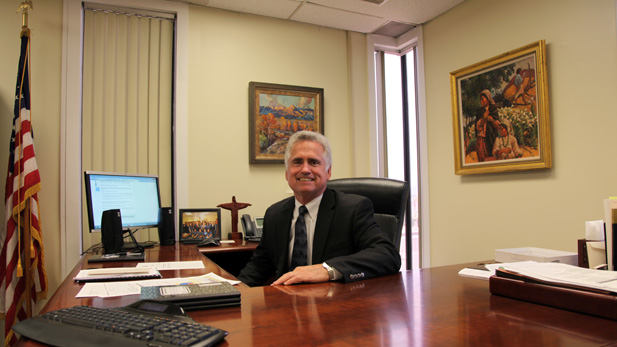 PHOTO: Fernanda Echavarri
Arizona's School Superintendent John Huppenthal in his office.
To hear a story about a summer reading program in the Sunnyside School District that teaches Native American students about their culture and language in the Tohono O'odham Nation click on this story: Teaching Traditions
To hear about a new Tucson Unified School District summer program that is preparing five-year-olds for their first day of school ever click on this story Jump Start
To hear about how English Language Learners in the border town of Douglas fall behind during the summer after speaking Spanish click on this story