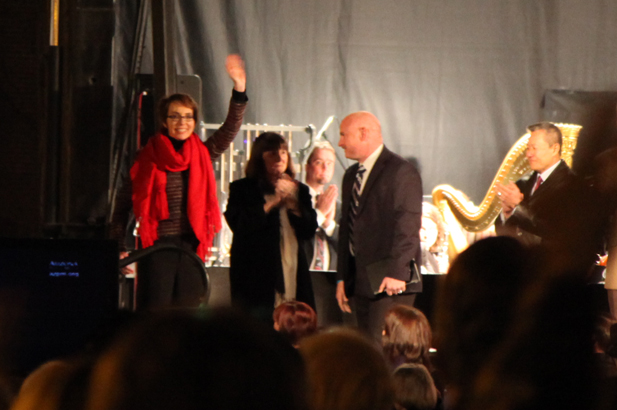 Gabrielle Giffords waving to the crowd at a Jan. 8, 2012 anniversary vigil of the shooting that took six lives and left her and 12 others wounded. (PHOTO: Christopher Conover, AZPM)
Jared Lee Loughner is prepared to plead guilty in federal court in Tucson Tuesday in the Jan. 8, 2011 shooting rampage in which six died and 13 others were wounded, three news media outlets report.
The Los Angeles Times, The Associated Press and the Arizona Daily Star reported various facets of the story on Saturday and Sunday. Arizona Public Media has not independently confirmed the information.
They quoted unidentified sources as saying Loughner will plead guilty at what was supposed to be a mental competency hearing. Mental health experts were prepared to testify that he is competent enough to understand the implication of a guilty plea.
The reports say the plea would mean Loughner, 23, will spend the rest of his life in prison with no chance for parole on federal charges. Separate state charges could be lodged against him, but no information was available on that possibility.
Loughner is charged in the shootings outside a northwest side Tucson Safeway supermarket as a "Congress on Your Corner" event got underway with then U.S. Rep. Gabrielle Giffords meeting constituents.
Giffords, a Democrat, was shot through the head. Six bystanders, including a little girl and one of Giffords' staff members, were killed, and 12 others, including current U.S. Rep. Ron Barber, were wounded.
Giffords resigned from Congress in January, saying she needed to devote full attention to her recovery. Her speech remains limited, her right hand and arm are disabled, and her walk is a slow, limping gait because of left-side brain damage that affects mobility on the right side of her body.
Barber, who was hit in the torso and leg, ran at Giffords behest in the special election to fill the seat she vacated. He was elected in June and is running for a full term in the newly drawn Congressional District 2 in Tucson and southeastern Arizona.
Loughner was subdued and disarmed at the scene of the shooting by several bystanders, including one man who was grazed on the head by a bullet. Loughner has been in federal custody ever since, most of it in a prison mental hospital in Missouri.
His lawyers had been fighting drug treatment for him to control what was diagnosed as schizophrenia and depression. At one point, a judge ordered the medication stopped but reversed the order after prosecutors argued that Loughner's condition was deteriorating.