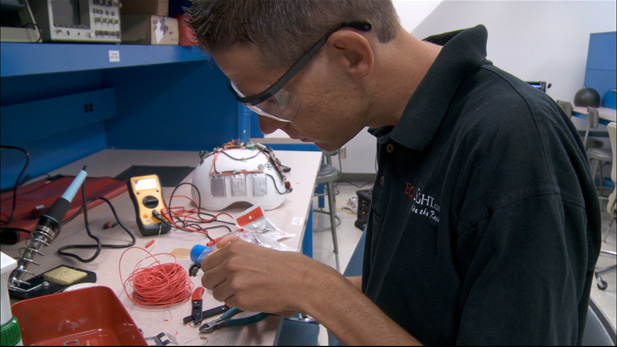 Garrett Weaver puts his engineering skills to work on the EquiSight jockey cam.
One of the most widely attended U.S. spectator sports is getting some help from technology.
EquiSight will put the sport of horse racing into the hands of the fans by providing a new way of watching races.
EquiSight is a student-driven project from the University of Arizona that was based on collaborations between student engineers and students in Arizona's Race Track Industry Program.
The EquiSight team has created a prototype jockey camera, which lets fans experience everything from the eyes of a jockey.
The camera allows spectators to stream and view a horse race via television, mobile device or electronic tablet.
The prototype is gaining interest not only from the horse racing industry but from those involved in skateboarding, BMX and baseball.
"This idea is very scalable to anything that's a helmet-based sport," says Kenleigh Hobby, CEO and founder of EquiSight. "We would like to create that fan experience, so allowing you, the home director, watch whether someone is playing baseball, snowboarding, hockey, football, to kind of see the first-hand point-of-view experience."
Producer: Alexandra Salazar | Videographer: Eric Rawdin | Editor: Lauren Bays, Yashmine Anderson