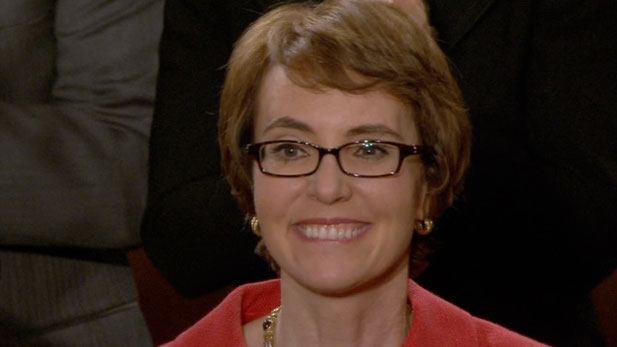 Gabrielle Giffords, wounded Jan. 8, 2011, resigned from Congress Jan. 25, 2012 (PHOTO: AZPM)
Jared Lee Loughner pleaded guilty to murder Tuesday in federal court after he was declared mentally competent in connection with the Jan. 8, 2011 Tucson shooting spree.
In a plea agreement that keeps him from facing the death penalty, Loughner admitted guilt to 19 counts, including murder and attempted murder of federal employees and of those attending a federally sponsored event. Thirty other counts were dropped.
Read Jared Lee Loughner's plea agreement
View at Google Docs | Download File
U.S. District Judge Larry Burns read each of the 19 counts against Loughner, whose response to each was, "I plead guilty." The judge concluded by saying, "The court accepts all of Mr. Loughner's guilty pleas."
Loughner, 23, leaned forward in his chair when the judge addressed him. He appeared calm, smiled occasionally and was methodical in responding to the judge's questions. There were times when he seemed to slur his words.
He was charged in the deaths of six people and wounding of 13, including then Congresswoman Gabrielle Giffords, during a congressional constituents' gathering on Tucson's northwest side.
The judge read chronologically through the events of Jan. 8, including saying, "You walked up to (Giffords), drew your pistol and shot her in the head at close range. Your intention was to kill her."
Loughner acknowledged that his intention was to kill or injure her and the others.
He also told the judge that he understood the charges against him and that he understood he faced "several life sentences," as the judge put it, with no chance for appeal.
Sentencing was set for Nov. 15. Loughner is expected to spend the rest of his life in prison. As part of the plea agreement, government prosecutors said they would not seek the death penalty.
A court-appointed psychiatrist told the judge that Loughner had expressed remorse. She said he was still on medication but was capable of understanding the charges against him and the consequences.
Giffords and her husband, Mark Kelly, released a statement to The Associated Press saying they were satisfied with the plea agreement as a method for allowing her, her family and the community to continue healing from the tragedy.
Giffords was shot through the left side of her head and resigned from Congress in January to focus on her recovery. She still is limited in speech, has limited use of her right hand and arm and walks with a slow, limping gait on her right side as a result of the left-side brain injury.
The six killed were U.S. District Judge John Roll, who had stopped at the event to speak with Giffords; congressional staff member Gabe Zimmerman; 9-year-old Christina-Taylor Green; Dorwin Stoddard; Dorothy Morris; and Phyllis Schneck.
Among those wounded were Giffords and her district office director, Ron Barber. Barber has since been elected to the congressional seat Giffords vacated.
Loughner, who was subdued and disarmed at the scene of the shooting by bystanders, was charged in a federal indictment in March 2011 with 49 counts of murder, attempted murder and other crimes.
For most of the time since he was arrested, Loughner has been in a federal prison hospital in Missouri under treatment for diagnosed schizophrenia and depression.
His lawyers tried more than once to get a judge to order medication treatments halted, and they were once. But doctors and the prosecution argued successfully that without medication, his condition would deteriorate.