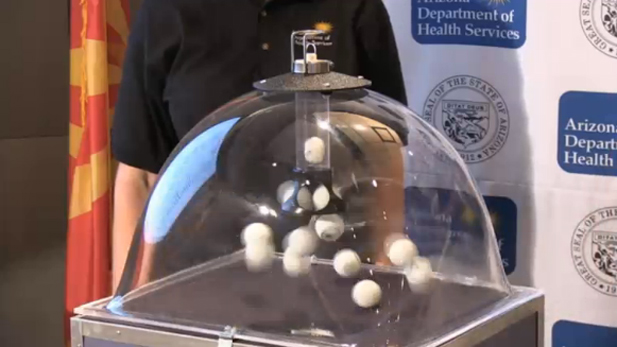 State Health Department employees use a bingo ball machine to randomly-selected which medical marijuana dispensary is eligible to operate in one of the 126 dispensary areas in the state. (PHOTO: Arizona Department of Health Services)
The Arizona Department of Health Services held a random drawing to decide which applicants will get a chance to sell medical marijuana to qualified patients. The process marks the beginning of a new phase of work for the dispensaries selected today.
The state Health Department received more applications for medical marijuana dispensary licenses than the maximum number of dispensaries, 126, that will be allowed in the state.
To decide which dispensaries are eligible for the state license, health officials held a random drawing Tuesday.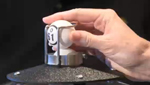 A state health worker displays the randomly-selected bingo ball that indicates which medical marijuana dispensary can operate in one of the 126 dispensary areas in the state. (PHOTO: Arizona Department of Health Services)
The dispensary applicants knew their assigned number, and a list of the randomly selected applicants will be posted on the Department of Health website. All applicants will also receive emails.
State health Director Will Humble called the process fair.
" ... we believe (we) gave everybody a fair shot, and at the same time made sure that only folks that met our qualifications made it into what you saw today and the lottery process," Humble says.
The successful dispensary applicants must do more paperwork and meet local regulations for operation. Many local jurisdictions, including Pima County and the city of Tucson, approved zoning regulations last year to prepare.
In unincorporated Pima County, dispensaries must locate in a CB-2 zone, says Chris Poirier, Pima County's assistant planning director.
"Typically it's what you see with a commercial strip mall, sort of a heavy retail type zone," he says.
Not all commercial retail zones are eligible for a dispensary location, because there are additional restrictions.
"It starts with being located no closer than 2,000 feet from any other medical marijuana dispensary," Poirier says. "We didn't want any kind of a medical marijuana cluster situation. So they need to be separate from any other dispensary.
"They need to be set back 1,000 feet from any type of school, and that includes your traditional public school. It also includes potentially a karate school, a drama school, a dancing school, 1,000 feet from those schools. Also 1,000 feet from any school bus stop."
The 1,000-foot buffer restriction extends to child-care centers and other public places such as public parks and churches. Medical marijuana dispensaries are also required to be at least 1,000 feet from a substance abuse or treatment facility.
The county chose those restrictions because they require any proposed dispensary to be in a publicly accessible place that's easy to get to and most importantly, keeps them away from places children frequent, Poirier says.
"Then they could apply for a type-three conditional use permit, which would require at least two public hearings, one before the Planning and Zoning Commission and one before the Board of Supervisors, with an expanded neighbor notice as well," he says. "It would be a very public, a lot of public involvement would occur with any request."
The county will evaluate applications to see if they meet all the criteria. The final word on dispensary locations in unincorporated Pima County rests with the Board of Supervisors.
Meanwhile, 13 of Arizona's 15 county attorneys this week sent a letter to Arizona Attorney General Tom Horne, asking him to issue an opinion on the legality of dispensaries.
Horne says even though Arizona voters passed a state law allowing them, federal law still prohibits cultivating, selling and dispensing marijuana.