The Arizona State Museum is a repository for hundreds of thousands of Native American artifacts. The museum has objects from more than 70 archaeological sites, including an estimated 600 individual human remains and more than 15,000 funerary objects.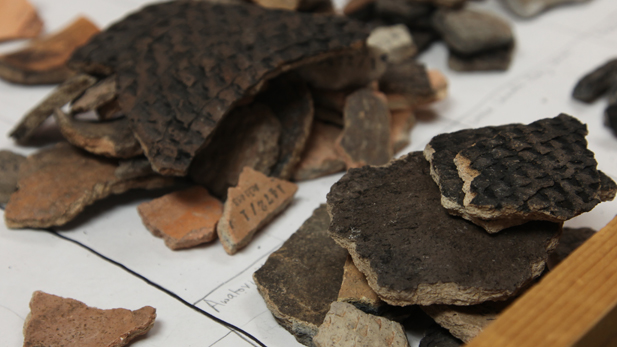 PHOTO: Mark Duggan
Pottery fragments at the Arizona State Museum's Homolovi collection.
Not all of it belongs to the museum. Some of the artifacts are the rightful property of the lineal descendents of the culture from which they came.
Museum staff are involved in an ongoing effort to return those objects to their respective cultures. They're complying with NAGPRA, or the Native American Graves Protection and Repatriation Act. The law, enacted in 1990, creates a process for museums that have certain Native American cultural items in their collections to return them to the tribes they belong to.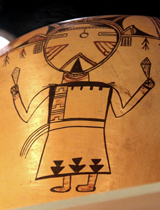 PHOTO: Mark Duggan
Hopi polychrome jar, ca 1920, Hopi Mesas, Arizona.
The National Park Service recently awarded more than $1.6 million in grants to museums and tribes to continue the cataloging and repatriation of such objects. The ASM is getting about $89,000.
Patrick Lyons is Associate Director of the Arizona State Museum and is directly involved in what's called the repatriation, or return of such items. He says museum staff are concentrating on artifacts that were excavated on state trust lands, primarily in the Tucson Basin. That covers thousands of artifacts and records, some of which are incomplete.
Lyons says the ultimate aim is to have all related items together, cataloged, and returned to members of the culture from which they came.
Lyons also points out that the field of archeology has changed from the old days. There's much more sensitivity to Native American cultures. And it's partially because of NAGPRA, according to Lyons.
He says the law has actually fostered more archaeological research. Part of it comes from NAGPRA's requirement that, in order to repatriate Native American cultural objects, a connection must be established; between the ancestors of a culture, and its lineal descendents.
More resources:
Arizona State Museum's NAGPRA guidelines for pottery
National Park Service's NAGPRA Resources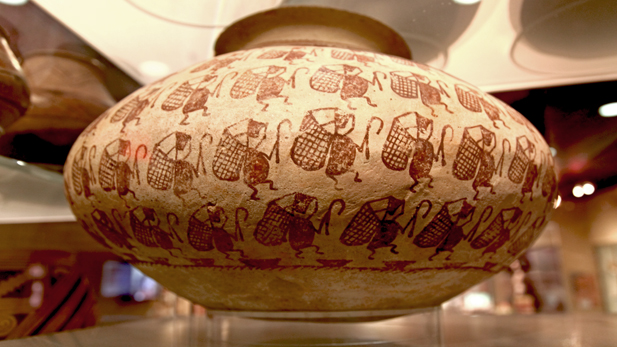 PHOTO: Mark Duggan
Santa Cruz red-on-buff jar, ca 850-1000 C.E., Hohokam Gila Bend Province, Arizona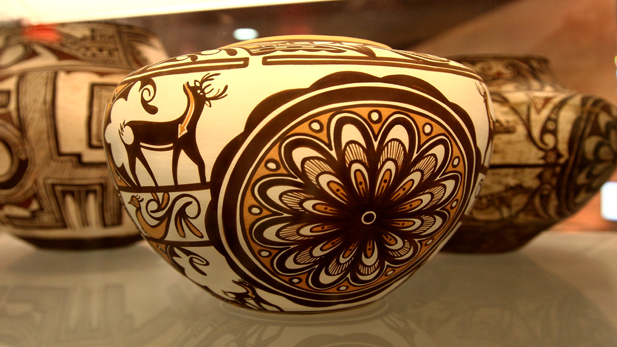 PHOTO: Mark Duggan
Zuni polychrome jar, on display at the Arizona State Museum, which has the world's largest collection of pre-Columbian Southwest Indian pottery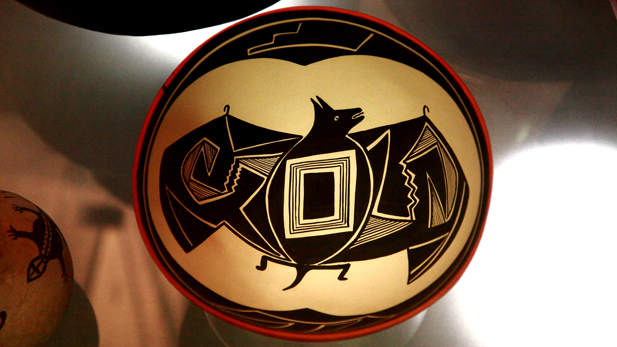 PHOTO: Mark Duggan
Jemez bat bowl, 2006, Jemez, NM, on display at the Arizona State Museum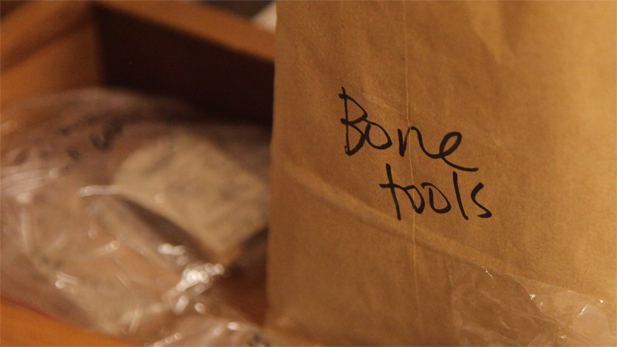 PHOTO: Mark Duggan
The Arizona State Museum has one of the world's largest collections of archaeological artifacts.