Arizona is not particularly known for earthquakes. Certainly not like its neighboring states of California and Utah. The state is ranked 13th nationally for seismic activity.
But a newly released study from a recent 3-year seismic survey finds the ground beneath our feet is doing plenty of shaking.
The study looked at data from the USArray survey conducted in Arizona between April 2006 and March 2009. Researchers with Arizona State University's School of Earth & Space Exploration found nearly 1,000 earthquakes rattled the state over the survey period.
Most of the tremors - 91% - were "micro-quakes" with a magnitude of 2.0 or smaller. Such tremors are rarely felt by people.
ASU's study also showed magnitude 4.9 and 5.3 earthquakes, which can cause surface shaking and minor damage, occurred near Flagstaff.
The 3-year survey that ended in 2009 was part of EarthScope's USArray system, a transportable system of seismometers. They migrate from state to state, tracking earthquakes for a set period of time.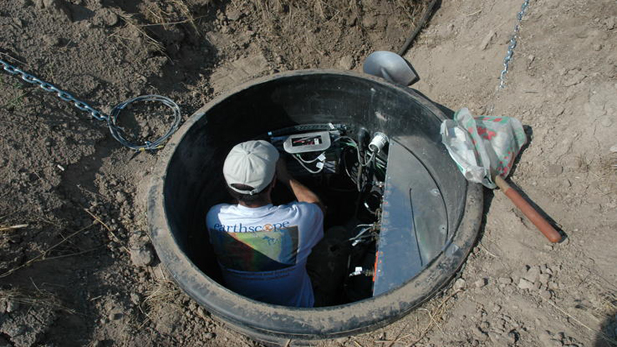 PHOTO: The IRIS Consortium
An Earthscope engineer installing equipment for a USArray transportable seismometer station. The system consists of 400 portable seismometers that are being deployed nationwide.
Arizona State Geologist Lee Allison, in an interview recorded in June 2012, said the USArray survey provided, for the first time, real-time tracking of Arizona's seismic activity. Previously, the state missed out on federal earthquake funding because it was considered a low-risk for serious quakes.
Allison said the USArray
Today, the Arizona Geological Survey operates its own network of seismometers, the Arizona Integrated Seismic Network. Initial funding for the network came from the Federal Emergency Management Agency.
In June 2012, we interviewed State Geologist Lee Allison at length about the state's network of seismometers. See and hear more here.
More resources:
Arizona Earthquake Information Center
More on ASU's School of Earth & Space Exploration earthquake study
Arizona Geological Survey's AZ Shakes earthquake awareness program