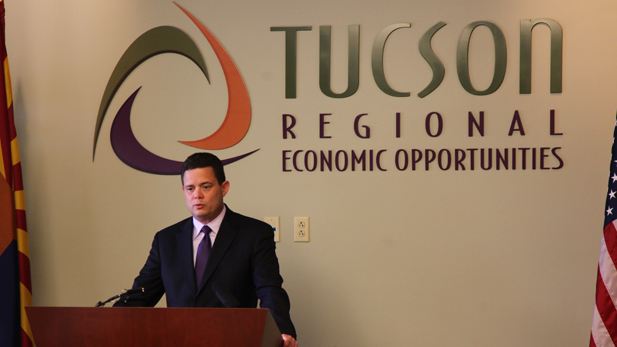 PHOTO: Andrea Kelly
Joe Snell, president and CEO of Tucson Regional Economic Opportunities, announces in August, 2012, technology company Accelr8 is moving to Tucson.
Pima County, Tucson and state government officials announced today that a company is moving its biotechnology business to Tucson.
Accelr8 currently employs less than a dozen people in Denver, and will moveto Tucson in 2013. It will move to the Abrams Public Health Center, near the University of Arizona Medical Center's south campus.
The company says the technology it creates is used to detect and diagnose disease-causing microorganisms, which can lead to faster treatment of infections in hospital patients.
It will hire in sales, science, engineering and manufacturing.
Accelr8 plans to add just 65 jobs in the next four years, but it will have an economic impact of hundreds of millions of dollars, says Joe Snell, Tucson Regional Economic Opportunities president.
"Most importantly, we add to our ranks a leading bioscience company that joins others like Ventana Medical, Sanofi and others to help establish our position as an emerging biotech hub," Snell says.
Part of the area's draw was an agreement from Pima County and the state to build a wet lab for Accelr8 and lease it back to the company, Snell says.
As this company expands, others can also use the space, Snell says.
Governor Jan Brewer praised the company's move in a conference call, saying the addition of the company strengthens the state's biotechnology reputation.