A National Science Foundation review panel says it should sell the telescopes it runs on Kitt Peak and concentrate limited budget resources on new astronomical research.
Kitt Peak National Observatory Director Tim Beers says the recommended divestiture was not a surprise. Astronomers knew the panel was taking a hard look at what the NSF could afford to fund. He stresses that the telescopes on the mountain would continue operating, but possibly under different owners and partners.
A sign on Kitt Peak commemorates the organizations that have been involved in the national observatory. (PHOTO: Mark Duggan)
In fact, in the portfolio review report, the authors say that "finding new organizations to fund and operate the telescopes is clearly preferable to mothballing or permanent closure."
The recommended divestiture would mean the end of federal financial support of telescopes like the 4-meter Mayall, with its massive white dome that can be seen for miles, and the 3.5-meter WIYN telescope, of which the NSF is a partner. It could also end funding for the organization known as Kitt Peak National Observatory, which is part of the National Optical Astronomy Observatory.
Beers says the national observatory plays several roles: it allows astronomers from any organization to book time on its telescopes, it runs a successful public outreach and nightly sky-gazing program, and it handles the infrastructure on Kitt Peak, home to more than 22 telescopes from more than a half dozen organizations.
He's also unambiguous when he says that the panel's recommendations could hurt the entire field of astronomy. It could cut back on the time visiting astronomers may observe and "curtail" a lot of the public programs on Kitt Peak.
The portfolio review report makes it clear that the NSF's top priority for funding should be the Large Synoptic Survey Telescope, or LSST, which is projected to start operation by 2022.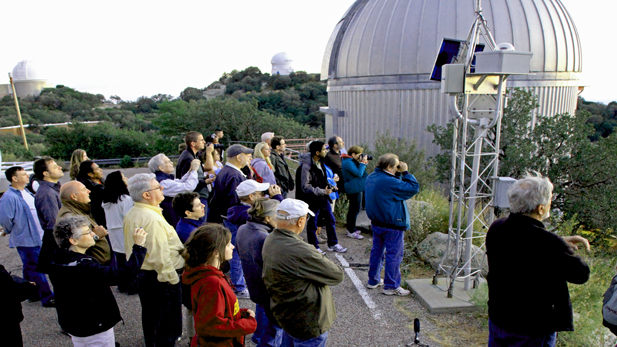 The popular public viewing program at Kitt Peak. (PHOTO: Mark Duggan)
More resources:

Read the NSF portfolio review committee's report: Advancing Astronomy in the Coming Decade
nsf_astronomy_review
View at Google Docs | Download File
Visit the Collecting Light website for more Arizona astronomy stories, interviews, resources and images.