It was the kind of day Tucsonans usually see only in winter. Cloudy skies at dawn, followed by persistent rain showers lasting until midday. Blame it on a powerful surge of moisture from the Pacific Ocean. Forecasters say this week's rain is more typical of the onshore systems that Arizona gets in December and January, instead of the monsoon, which is fueled by a southerly flow from Mexico.
J. J. Brost, Science Officer for the National Weather Service in Tucson, says this week's weather system is a perfect example of the tug-of-war that's beginning to happen between summer and fall.
The result was widespread rain – and flooding – across Pima, Santa Cruz and Maricopa Counties. Much of midtown Tucson received around 1.00" Wednesday, while parts of the Phoenix area got more than an inch.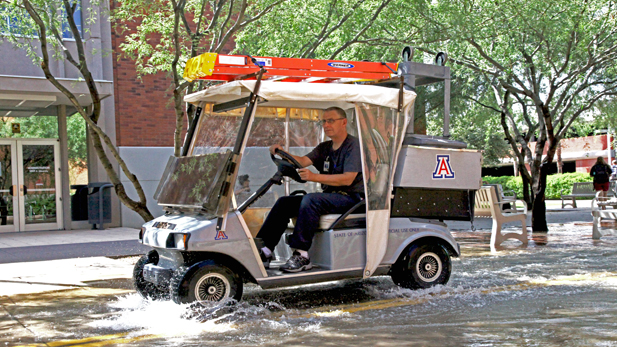 PHOTO: Mark Duggan
The rains brought widespread flooding to southern Arizona. Even walkways on the University of Arizona campus were underwater.
Rain is likely again today, before a drying and warming trend starts Friday. After that, Brost says we return to a more typical monsoon pattern.
Monsoon 2012 has been productive for many southern Arizona locations. According to the National Weather Service, the Tucson International Airport has received 5.62" of rain since the season began June 15. Normal totals by August 22 are 4.17." But not all locations are above average. Douglas and Sierra Vista are off seasonal rainfall norms.
Other rainfall totals in southern Arizona (through Aug. 22):
Nogales: 9.31" (normal: 8.06")
Willcox: 6.88" (normal: 4.67")
Safford: 4.99" (normal: 2.97")
Picacho Peak: 2.75" (normal: 2.36")
Sierra Vista: 6.07" (normal: 6.33")
Douglas: 4.44" (normal: 5.79")
Organ Pipe National Monument: 2.10" (normal: 2.98")