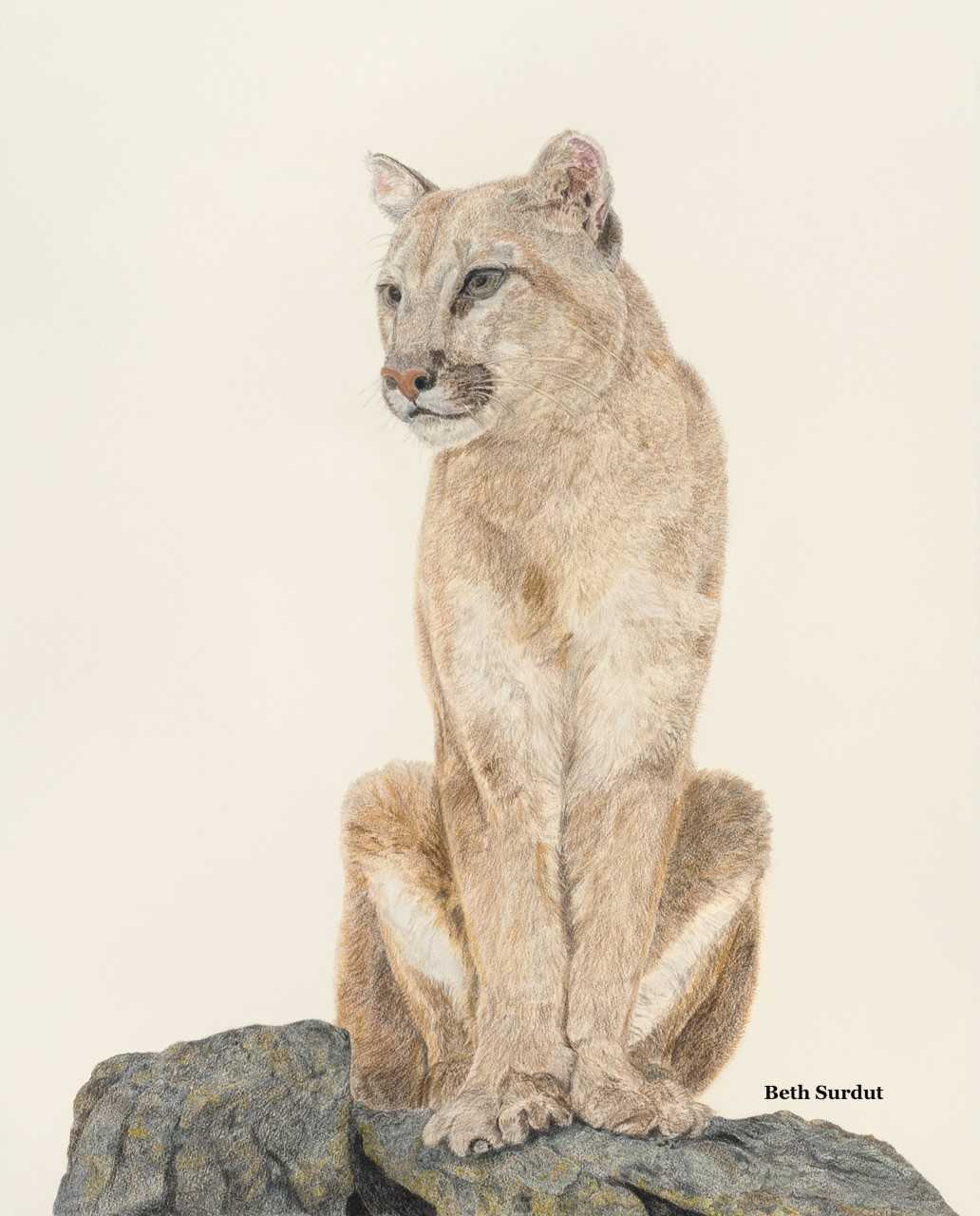 "You Should Be So Lucky" -- Mountain Lion, 22" x28" drawing by Beth Surdut. Reference photo by Moose Henderson
Paying Attention: Mountain Lion © Beth Surdut 2018
When someone tells me that they have seen a mountain lion in the wild, or even that there might be one around, this frisson of excitement sparkles through me. Stories come to me from all sorts of people and places.
My landlord, Pete Jorgensen, came over to work on my clogged kitchen sink. Passing by my work table, where I was finishing a drawing of a mountain lion, he told me about being in the Rincon Mountains ten or twelve years ago, collecting leopard frog data with friends. They were walking by a pond, when a mountain lion jumped out of some reeds on the far side, and ran away. Pete was the last person in line, hanging back, because he wanted to see what was in those reeds. He waded across the pond, maybe 30 feet, thinking there might be a kill or a den. He parted the reeds, and there was a second lion, lying down, with its back to him. He was so close he could have touched it.
"I thought she was asleep. She turned her body and looked at me. The hair on my arms stood up. She had beautiful eyes," he said, and I could hear the wonder in his voice. He backed away, slowly, and kept going. The hair on my arms was standing up, too, and, just for a second, I was with him, and the mountain lion, holding my breath.
"Lucky you," I said to him "to experience that."
"Yes, yes, I was," he said. So, I named the drawing "You Should Be So Lucky."
Cougar, puma, panther, and mountain lion are common names for the Puma concolor -- the largest cat that can purr, meow, caterwaul, and yowl, but not roar. A typical adult male -- 6 to 8 feet from nose to tail tip -- weighs 110 to 180 pounds; females -- 5 to 7 feet -- 80 to 130 pounds.
Mountain lions can run up to 45 miles per hour for short distances, leap 30 feet or more horizontally, 18 feet straight up, and 60 feet down. They are beautiful, powerful, mysterious, and often misunderstood. Estimated numbers in Arizona are 2500-3,000. With home ranges of 75 to 150 square miles -- and those numbers vary depending on which study you read -- the cats are hard to count.
University of Arizona professor Melanie Culver is a conservation geneticist who knows her scat. She has been studying mountain lion genetics in North and South America since 1990. In a recent conversation, she said, "There have been a lot of mountain lions in Arizona, but I don't know that is always going to be so. They are the last large predator that have this very important role."
That role is that of wildlife managers. Extirpate them, you tip the balance, creating what's called a trophic cascade. For example, without the presence of mountain lions and wolves, deer populations soar beyond healthy numbers. While there have been 25 reported human deaths by mountain lions since 1890, 1,000 people die every year in deer collisions with automobiles.
In 1909, Ernest Thompson Seton -- wildlife illustrator, storyteller, and former animal bounty hunter turned wildlife advocate, wrote this: "Of all that has been written or is known of the American cougar, fully ninety-nine percent deals with how we may hunt, pursue, murder, and destroy this wonderful beautiful animal."
In 1970, Arizona was the last state to stop offering bounties for killing cougars. It is still legal to hunt big cats in this state, but there is a petition currently circulated by Arizonans for Wildlife that has the goal of putting a measure on the November 2018 ballot that would prohibit trophy hunting - including hounding and trapping - of mountain lions, bobcats, jaguars, ocelots, and lynx. (The petition effort was suspended on April 3rd, 2018.)
In January, 1994, on a cold clear morning - the kind that bites your nose - my Tucson friend Vicki Nordness and her two large dogs (a 100-pound malamute and a 75-pound Husky mutt) walked out of her house in the Methow Valley in the North Cascade mountain range in Washington State.
They hadn't gone far when they heard hounds baying, their anxious voices bouncing around the valley. The snow was so deep, that Vicki went back home to put on her snow shoes. Starting out at 2100 feet above the valley floor, she followed the sound up another 500 feet, where she found chaos.
Six radio-collared hunting dogs had treed something. The pack was baying and lunging. Two hounds were fighting with each other, wrestling and rolling down the hill towards Vicki and her dogs, who had stopped about 100 feet away. The hounds tried to engage her dogs, so she barked at the hounds to sit, which sent them running back to the tree.
Then, she waited.
A man and a boy appeared, with guns and no snow shoes. They post-holed slowly through the deep snow, their legs disappearing with each step. Vicki, 40 years old, slight of build and strong of spirit, guessed the man to be about her age, the boy about eighteen.
After introducing herself, Vicki told them, "Whatever you have in that tree, I don't want you to kill it. Is it a cougar?"
The man said, "I hope so. We've been chasing a cougar and her young all morning on our snowmobiles."
Vicki asked, "Couldn't you just take a picture?"
The boy said, "I want to stuff it and put in my living room. I've been waiting 5 years to get this permit. Let's just respect our differences."
An older man, walking more slowly than the others, approached them. He was the grandfather.
"What's this worth to you guys?' Vicki asked.
"What do you mean?" said the father.
"I'll pay you not to kill it. How about 500 dollars?"
The grandfather said, "Okay, okay, we'll just take pictures," and he took out a little movie camera.
They all walked up to the Ponderosa pine where the hounds had been baying the whole time.
There was the cougar, about 15 feet off the ground.
As the men finally walked away, Vicki realized that she could walk up the slope to be 15 feet away from the tree and at eye level with the cougar.
One of the men turned and yelled that she wasn't safe unless her dogs were baying.
Her dogs never looked at the cat; they focused on the men.
So there she sat, with the cougar, in the beautiful silence of the Ponderosa pine forest, her dogs by her side.
She returned the next morning and found the cougar's tracks where it had walked away from the tree, from the hounds, from the men with guns, and from my friend, who told me that seeing a cougar in the wild, was the thrill of a lifetime.
Night time video of a mountain lion near Tucson courtesy of David Dean.
Dan Collins, a volunteer at Saguaro National Park West, offers a presentation called Mountain Lions: Beyond the Myth. A special program corresponding with the UN World Wildlife Day about "Big Cats - Predators Under Threat" is on Saturday, March 3rd at 3:15 PM.
Throughout the month of March, an exhibition of wildlife drawings and true nature stories by Beth Surdut will be on view at the Kirk-Bear Canyon Library on East Tanque Verde Road.
You can learn about Citizen Science, explore ways to deepen your relationship with nature, and share your stories when Beth Surdut and friends from the National Phenology Network host a presentation on The Art of Paying Attention on Sunday, March 4 from 2 - 4 pm, also at the Kirk-Bear Canyon Library on East Tanque Verde Road.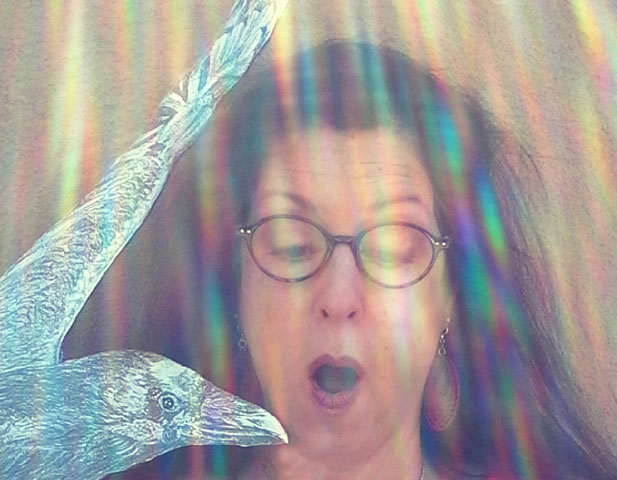 Visual storyteller Beth Surdut invites you to observe, with unbounded curiosity, the wild life that flies, crawls, and skitters along with us in our changing environment. From exotic orchids and poison dart frogs to local hawks and javelinas, Surdut illustrates her experiences with wild and cultivated nature by creating color-saturated silk paintings and detailed drawings accompanied by true stories.
You can find Surdut's drawings - and true stories about spirited critters - at listeningtoraven.com and surdutblogspot.com.
Beth Surdut's illustrated work Listening to Raven won the 2013 Tucson Festival of Books Literary Award for Non-Fiction. Elements of her raven clan have appeared in Orion Magazine, flown across the digitally looped Art Billboard Project in Albany, New York and roosted at the New York State Museum in an exhibition of international scientific illustrators.