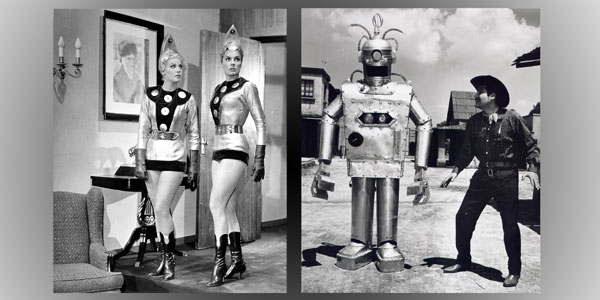 El Planeta de Las Mujeres Invasoras/La Nave de los Monstrous
El Planeta de Las Mujeres Invasoras (Picture left)
Sunday, March 29; 5:00pm
At Grand Cinema Crossroads 6

Vintage Mexican Sci Fi - New 35mm Print! This film is part of El Futuro Más Acá: The Future South of the Border film series curated by Itala Schmeltz, Vania Rojas and Héctor Orozco. Presented in Association with Cinema Tropical and Filmoteca de la UNAM
Mexico, 1965, 85 min.
Director: Alfredo B. Crevenna
Cast: Lorena Velásquez, Elizabeth Campbell, Maura Monti, Guillermo Murray, Adriana Roel, Rogelio Guerra and José Ángel Espinosa "Ferrusquilla."
In Spanish with English subtitles
FILM INTRODUCED BY: CARLOS GUTIERREZ, CINEMA TROPICAL
This classic is a sequel to Gigantes Planetarios (Planetary Giants), in which the cast was never aware that the scenes they were filming would not be used to make just one, but two separate movies. While strolling through the town fair, Marcos the boxer, Taquito his 'second,' and the beautiful Silvia board a flying saucer believing it to be a fairground attraction. The vehicle takes off and carries them away to the planet Sibila, ruled by ruthless Queen Adastrea. The Sibilians want to use human transplants to adapt their lungs to the Earth's atmosphere in order to invade the planet. Alburnia, the queen's good-hearted twin sister, warns scientist Daniel Wolf of the Sibilians' evil scheme. He then travels to Sibila to seduce and doublecross Adastrea in order to foil her plans and save the Earth.
La Nave de los Monstrous (Picture right)
Friday, March 27; 9:30pm at Grand Cinemas Crossroads 6

Vintage Mexican Sci Fi - New 35mm Print!
This film is part of El Futuro Más Acá: The Future South of the Border film series curated by Itala Schmeltz, Vania Rojas and Héctor Orozco. Presented in Association with Cinema Tropical and Filmoteca de la UNAM
Mexico, 1959, 81 mins.
Director: Rogelio A Gonzalez
Cast: Eulalio González "Piporro," Ana Bertha Lepe, Lorena Velázquez, Consuelo Frank, and Heberto Dávila, Jr. In Spanish with English subtitles

The last man on Venus has died and the planet's regent sends two beautiful Venusians, Gamma and Beta, on a quest for males on other worlds. In their travels through the universe they capture several specimens, all of them monstrous. When their spaceship breaks down, Gamma, Beta and Tor (the robot) have to perform an emergency landing in Chihuahua where they meet Laureano and his brother Chuy. Laureano explains what love is to the aliens, but only Gamma comprehends the friendly northern-Mexican earthling's meaning. Beta decides to conquer the Earth, using the robot and the monsters as her minions. Now Laureano must save the planet while taking time out to woo Gamma.
These are just two of the movies featured. Information is courtesy of the Center for Latin American Studies at the University of Arizona.
You can find a complete list of the featured movies here.