Marianne sings new songs in the KUAZ Studio, with accompaniment from guitarist Connor Gallaher.
Marianne Dissard is a critically-acclaimed French singer who has called Tucson her home since 1994. In this interview, she talks with Mark McLemore about her new album L'Abandon, and the connected film project. She also recorded a session in the KUAZ Studio, accompanied by guitarist Connor Gallaher, who joined Marianne on her last European tour.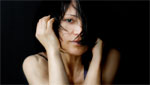 Marianne Dissard's website contains her full biography and her upcoming tour dates. She will soon be releasing L'Abandon, her second full studio album following 2008's award-winning L'Entredeux.
L'Abandon will feature songs co-written by Marianne with Italian composer Christian Ravaglioli and Sergio Mendoza. The musicians include Canadian guitar player Luke Doucet and Marianne's Tucson bandmates, including Sergio Mendoza (Calexico, Y La Orkesta), Thøger Lund (Giant Sand), Brian Lopez (Mostly Bears), the Rosano Brothers, Larry Lopez, and Connor Gallaher. Jim Waters is engineering, Rhymesayers' BK-One will handle additional arrangements and a remix album, and John Parish (of PJ Harvey fame) will mix.
The Loft Cinema presents the world premiere of "Lonesome Cowgirls", the film project which Marianne discusses in her interview, on Thursday, October 14th, 2010.
Listen to an exclusive new track from the same session: "Fondre," an acoustic version of a song from Marianne's forthcoming album L'Abandon.
Marianne Dissard and Connor Gallaher Performing Les Confetti in the KUAZ Studio.: