Many women served during the war in Iraq
azpm
According to the United States Department of Veterans Affairs, the largest group of women veterans today served in Iraq and Afghanistan. In 2008, women made up 11 percent of OEF/OIF veterans. More than 44 percent of these female veterans enrolled with VA Health Care. Another fact, more than sixty percent of female veterans who used VA care in the last few years were under age 30.

However, many women veterans are unaware of the health services they are entitled to. In 1993 the Southern Arizona VA Health Care System opened a women's clinic in anticipation of the women veterans population. Dr. Kathleen Gibson, Head of Primary Care Line for SAVAHCS, says, "we offer a whole range of gender specific health care from maternity care to hormone replacement therapy." She says, "currently we have 560 women veterans assigned to the primary care clinics across our system that includes the main facility and well as our outlying clinics."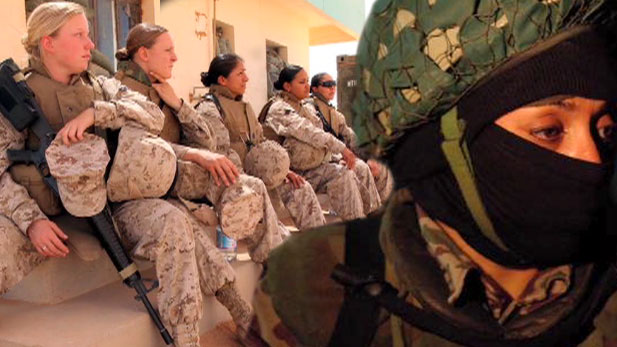 Many American women fought in Iraq

VA
The most common illness for women war veterans returning home are psychological issues, especially Post Traumatic Stress Syndrome or PTSD. 27 year-old Laura Brockert served with the U.S. Army in Irag for over a year. When she returned to Tucson in 2005 she was suffering from PTSD. Although she was skeptical anyone could help, she went to SAVAHCS for treatment and now she's almost fully recovered. What was a complete "surprise" that the SAVAHCS would also cover the maternity care she needed for her first child. Now Laura is receiving pre-natal care for her second child. Laura says, "people at VA really know how to take care of soldiers."
Joan Cole was a commissioned officer in the Korean War. When she got out she says, "of course there was no women's program." Today she's a volunteer for the SAVAHCS's Women's Health Unit because she is so impressed with the care she and other women vets are receiving here. She says, "For me and other women we have found the SAVAHCS to be a haven, and it can help with both physical and mental problems."

While many OEF/OIF women veterans are taking advantage of VA Health Care, there are many who are not. In fact a large number of women war veterans are unaware of the health care services they are being offered. Adrieen Weede, Transition Team Manager for OIF/OEF vets here in Southern Arizona says, "For women veterans this means that we educate them on what their treament options are, we let them know that they can see a medical provider that is a female or a male. The key component is that we empower women veterans and provide a high quality of care and offer services that are accessible."