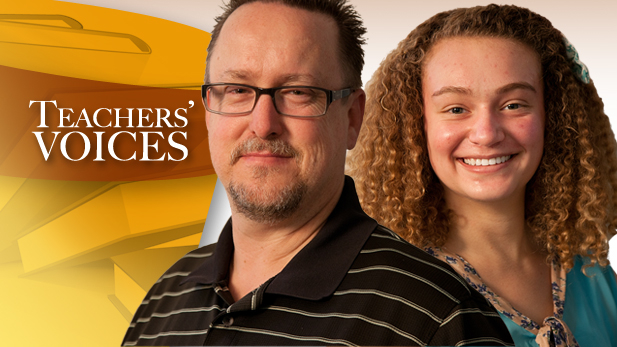 University High School band director Jeff Marchant with student and tuba player Taylor Ginter (PHOTO: Matt Ehrichs )
In cooperation with Tucson Values Teachers, Arizona Spotlight presents a special series called Teachers' Voices. These conversations between educators, administrators, and students gives them a chance to share personal stories about the struggles and triumphs of their daily school experience.
The month of August always brings with it a frenzy of back-to-school activity, as everyone from kindergarteners to college students try to prepare - and brace themselves - for the start of a new academic year.
For students like University High School junior and tuba player Taylor Ginter, going back to school also means getting back into practice as a musician, and re-connecting with her friends in the close-knit social structure of University High School's marching band.
One person who's glad to see Taylor returning to practice is her band's director, Mr. Jeff Marchant. Next, Taylor and Jeff to talk about their school experience - both the one they now share, and what Jeff recalls about his own...
Listen:
Teachers' Voices is produced by Mark McLemore and Jacquelyn Jackson, and will air bi-weekly throughout 2012 on Arizona Spotlight, funded in part by University of Arizona College of Education and Cox Communications.