The latest El Niño report from the National Climate Prediction Center says the weather phenomenon has a 70% chance of forming next month and persisting through early 2013.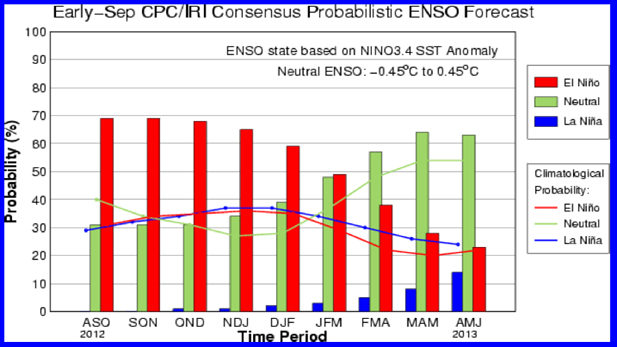 El Niño is predicted to begin in August-October 2012 and persist through December-February 2012-2013. (PHOTO: National Climate Prediction Center)
If it does, parts of Arizona could get a lot of moisture this winter. El Niño is known for producing heavy winter rains in the deserts and lots of snow in the mountains.
Right now, forecasters say conditions are neutral – neither El Niño…nor its opposite, La Niña. But forecasters call for a rapid transformation to El Niño starting next month and lasting through late February. It's still to early to tell whether it will be weak or moderate in strength.
The condition is related to water surface temperatures in the eastern Pacific Ocean, and can affect weather patterns over a large area. According to the National Weather Service website, the last El Niño winter was in late 2009 and early 2010. La Niña influenced the last two winters, and rainfall was below average.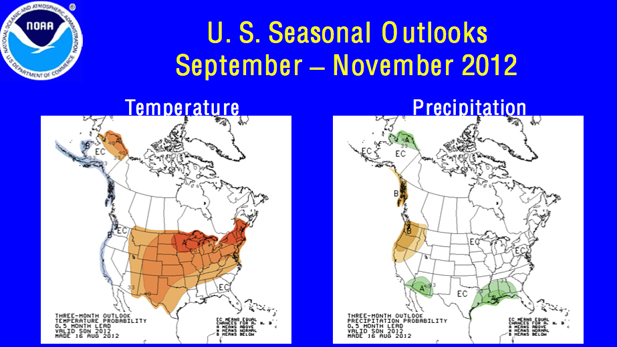 The latest El Niño outlook map calls for above normal precipitation in southern Arizona. (PHOTO: National Climate Prediction Center)
More resources:
Learn about the ENSO Cycle that produces both El Niño and La Niña
National Weather Service Tucson