(VIDEO: AZPM)
Arizona's economy is expanding, with job growth sixth strongest in the nation, but economists and state officials are expressing caution about sustained growth and state government revenues.
Members of the Joint Legislative Budget Committee heard the cautious reports from the panel's staff and its Finance Advisory Committee Thursday at the state capitol in Phoenix.
Budget committee staff director Richard Stavneak told legislators that while the fiscal year that ended in June was strong for state revenue, the last three months have seen a slowdown.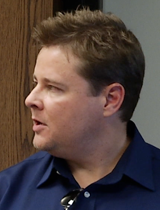 Economist Jim Rounds. (PHOTO: AZPM)
"Our '12 ending balance was approximately $275 million more than expected," Stavneak said. "But our '13 revenue growth is slower than forecast so far year to date."
State Treasurer Doug Ducey, in his report to the JLBC, had positive news about the state's operating account--in essence, its checkbook balance. But he also added a note of caution.
"I have great concern about what is happening in the state in terms of cash flow," Ducey said. "While we are positive today -- and I think it's important to remember that just two short years ago we were negative $730 million in the state's operating account, and it's wonderful to be able to come in here and talk about a cash balance that's well over $1 billion today, with $450 million in the state's reserve account -- there are a lot of things in front of us."
Among them, Ducey and others said, are overall slowness in the economy, state political decisions about expanding Medicaid coverage and the one-cent sales tax initiative on the election ballot.
"I think it's quite appropriate that we have a very conservative forecast for revenue growth," said Marshall Vest, a member of the Finance Advisory Committee and director of the Economic and Business Research Center at the University of Arizona.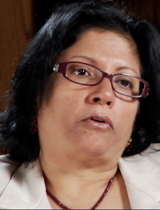 Economist Aruna Murthy (PHOTO: AZPM)
While Arizona is near the lead nationally in job growth, economist Jim Rounds of Elliott D. Pollack & Co. told the gathering that the "under-employment rate" is still above 15 percent and the economy is showing signs of softening.
"We think we're on the cusp of seeing a lot of this data related to jobs jump up more this time of year," Rounds said. "But what I think is happening is that this uncertainty and psychology that we've been talking about and we've really emphasized a couple, three years ago is coming back, and it's going to push off some of the growth maybe into the next fiscal year."
Rounds and fellow Finance Advisory Committee member Aruna Murthy, the state's top job statistics analyst, expanded on the analysis in interviews with Arizona Week following the meeting.
"I think we're going to see economic activity slow just a bit -- not a recession again -- for the next six months or so," Rounds said. "And then, it'll pick back up once we have more certainty."
Murthy, director of economic analysis for the state Office of Employment and Population Statistics, said private-sector job growth has been sustained at 2 percent or more for the last six months, and 98 percent of the state's job growth is in the private sector, both signs of a good trend. At the same time, she said, stronger growth is needed.
"Obviously, all of us want more jobs, and I think we could have more jobs," Murthy said. "But it's in the positive trajectory, and I think it's moving in the right direction."
What it likely means for the state government's budget next year is hold the line, state Senate Majority Leader Andy Biggs told Arizona Week.
"We can't begin adding back, because in (fiscal) 2013, we already are under revenue projections so far this year," Biggs said.
"I think that Arizona right now is in pretty good shape," he said. "But that doesn't mean we can go ahead and spend a bunch of money in the coming fiscal year that we don't have."
Read the JLBC finance report here
View at Google Docs | Download File
Reporter Michael Chihak further explores the state economy and finances on Arizona Week, 8:30 p.m. MST on PBS 6. Or, watch here later.