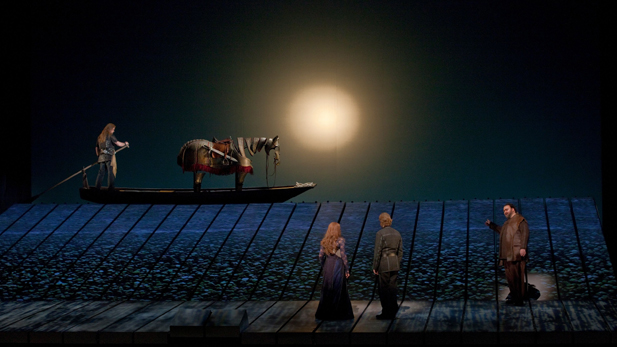 A scene from Wagner's "Götterdämmerung" with Jay Hunter Morris (on boat) as Siegfried, Wendy Bryn Harmer as Gutrune, Iain Paterson as Gunther, and Hans-Peter König as Hagen. (PHOTO: PBS)
Siegfried and Brünnhilde's love is torn apart by the curse of the ring. A trio of scheming humans separates the two heroes in a desperate attempt to steal the ring for themselves. Their villainous plan fails, but they succeed in murdering Siegfried. Heartbroken, Brünnhilde takes the ring and leaps into the hero's funeral pyre, causing a global cataclysm and the twilight of the gods.
Fabio Luisi conducts, with Deborah Voigt (Brünnhilde), Wendy Bryn Harmer (Gutrune), Waltraud Meier (Waltraute), Jay Hunter Morris (Siegfried), Iain Paterson (Gunther), Eric Owens (Alberich) and Hans-Peter König (Hagen).
GREAT PERFORMANCES AT THE MET, Sunday at noon on PBS 6.