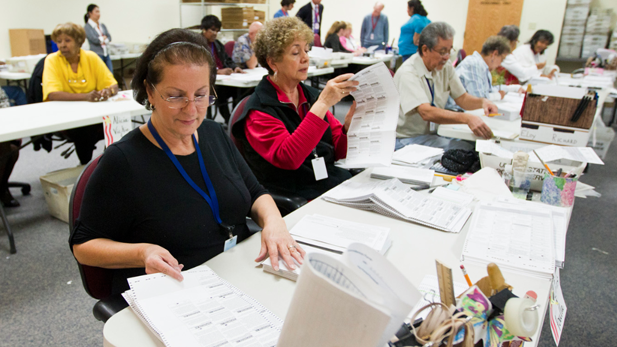 Pima County Elections Department workers process early ballots after the 2012 election. (PHOTO: Pima County Communications Department)
Elections workers scrambled across Arizona Thursday to complete verifying early and provisional ballots to meet the 5 p.m. Friday deadline set in state law.
Because of the late vote counting, two Southern Arizona races were left undecided nine days after the election. In Congressional District 2, Democratic incumbent Ron Barber led Republican challenger Martha McSally by 923 votes. In Tucson's proposition 409, to allow $100 million in city borrowing for road maintenance, the "yes" votes led the "no" votes by 242.
Pima County officials said they still had some early ballots and more than 20,000 provisional ballots to be processed. Statewide, 163,482 ballots remained to be processed and counted, the Secretary of State's Office reported Thursday afternoon.
While the verification process must end Friday, the count can extend beyond then, and is expected to, state officials said.
A provisional ballot can be counted only after being checked against voting records. In many cases, voters had to cast provisional ballots because they did not have proper identification or for a clerical reason related to registration records.
Wednesday was the deadline for voters who did not have proper ID at the polls to present it to the recorders' offices around the state. It was unknown Thursday how many did so.