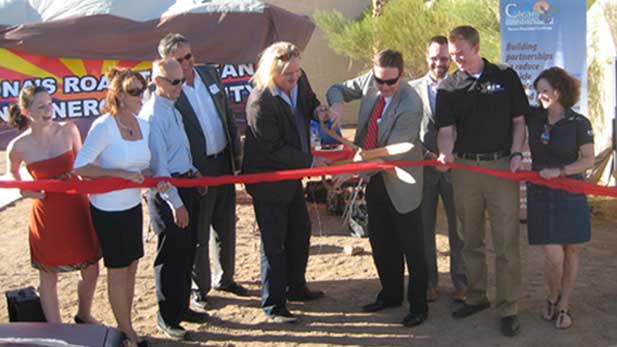 Picacho Peak, Arizona, Saturday, December 8, 2012: The official ribbon-cutting ceremony inaugurating the new GoE3 Quick Charging installation for EVs. (left to right) Ariel Brimacombe, Colleen Crowninshield (Tucson Clean Cities,) Bill Sheaffer (Phoenix Clean Cities,) Paul Bessent (VP, GoE3,) Bruce Brimacombe (CEO, GoE3,) Ken Bennett (AZ Secretary of State,) Colin Tetrault (Advisor on Sustainability, Phoenix Mayor's office,) Sean Hegna (Eaton Corporation,) Cyndi Brimacombe.

Benjamin Nead
Listen:
Electric cars, or EVs, have become an increasingly common presence in both Tucson and Phoenix this past year and a half. The dilemma is how to get these cars, which are mostly short range city-only vehicles, to be able to travel seamlessly between Arizona's two largest cities and beyond. EV Quick Charging facilities, courtesy of the federal-funded EV Project, have been promised along I-10 for several years now. But they have been behind schedule in arriving. A private company based in the Phoenix area, GoE3, has picked up the gauntlet and on Saturday, December 8, 2012, opened the first such Electric Vehicle Service Equipment - or EVSE – facility with Quick Charging capabilities at Picacho Peak. The precise location is Exit 219, at the Bowlins' Travel Center, on the northeast side of the highway.
The new GoE3 EVSE is currently configured to work with a Level 3 CHAdeMO plug, common to all Japanese-built EVs, and the newly-introduced SAE J1772 Combo plug, which is the Quick Charge standard embraced by most US and European auto manufacturers.

Benjamin Nead
Beyond the fact that GoE3's business model doesn't rely on government funding, their EVSEs are also unique on a technical level. Modular construction allows qualified technicians to reconfigure "power drawers" within the units to accommodate what is now a rather large array of competing standards in plug designs. As certain charging plug standards are destined to become obsolete and newer, better ones are introduced; the open architecture of the GoE3 EVSEs enables them to be virtually "future proof."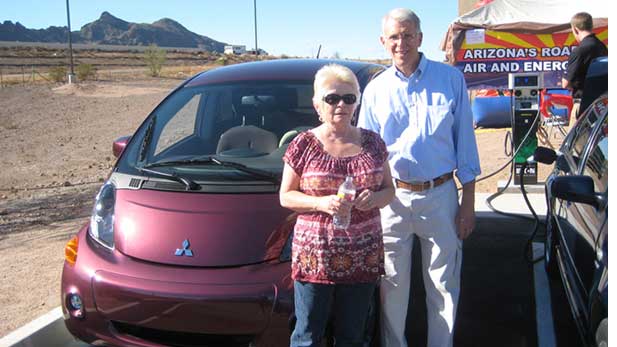 Ray and Carole Rogers of Tucson drove up to Picacho Peak in their new Mitsubishi I EV to witness the inauguration. Ray, a retired electrical engineer and treasurer of the Tucson Electric Vehicle Association (TEVA2,), converted a GEO Metro in the 1990s to run on battery power and drove it for 9 years on a daily basis.

Benjamin Nead
The multi-format Level 3 (440 volt DC.) Quick Charge protocol allows the battery pack in most EVs to be recharged to 80% capacity within 15 to 45 minutes (the 80% cap is designed to preserve battery life, which could be otherwise adversely affected by charging in these high voltage/amperage scenarios.) A Quick Charge on GoE3's new Picacho Peak EVSE will cost $5 for a Nissan Leaf and other city-oriented EVs with similarly-sized batteries, while more expensive EVs with larger batteries that are designed for extended highway travel, such as the new Tesla S, will cost $13 for a Quick Charge. Picacho Peak's installation also features the now-familiar Level 2 (240 volt AC) EVSEs that are seen at public charging installation in the Tucson and Phoenix metro areas.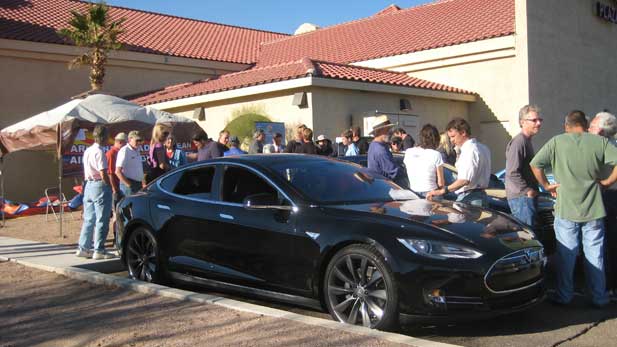 The new Tesla S, winner of Motor Trend's prestigious Car Of The Year award for 2013, is an electric car with freeway-friendly range capabilities and an 85 kiloWatt hour (kWh) battery capacity that can take it up to 300 miles per charge.

Benjamin Nead
In an email press release issued the day following the Picacho Peak inauguration, GoE3's CEO, Bruce Brimacombe elaborated on what was still to come. The GoE3 installations (which will also include installations along I-10 closer to Phoenix and along I-17 to Flagstaff coming in 2013) will be covered by solar-powered awnings for nighttime lighting and include security cameras. It is the company's intention to eventually bring in larger arrays solar photovoltaic panels to these installations, to reduce the load on the electrical grid imposed by EV charging. The long term goal is to witness a completely zero gas emissions system.