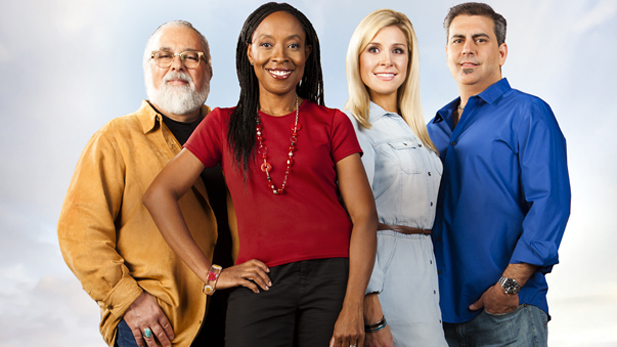 The MARKET WARRIORS pickers. From left to right: John Bruno, Bene Raia, Miller Gaffney, and Kevin Bruneau. (PHOTO: PBS)
This week on MARKET WARRIORS, pickers Miller, John, Bob and Kevin head to New Milford, Connecticut, home to Elephant Trunk Country Flea Market, a weekly sale that starts at the crack of dawn and where the pickers are challenged to find something metal. Off screen host Mark L. Walberg comments on the wide array of items found, from a vintage toy truck to a coffee grinder. Pickers find themselves up against closing time as they scour the market to find items before the dealers pack up. Some notable finds include a pyrography chair and a slant front desk. In the Shop 'Til You Stop round, pickers Bob and John duke it out to determine who has first dibs on an antique butter churn. This week's items are sent to Ken Farmer's Auctions in Radford, Virginia, where the pickers find themselves neck-and-neck until the end.
Market Warriors: Antiquing in Walnut, IA, Monday at 9 p.m. on PBS 6.