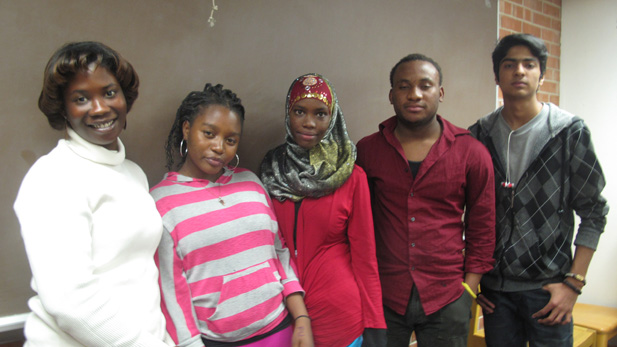 Catalina High School radio class (left to right): Sukay Slea, Frorasi Tuyizere, Khadra Issak, Etongo Ekyoci, Zaroon Nasir (PHOTO: Bria Dolnick)
In 2012, Arizona Spotlight presented series of radio stories from independent radio producer Bria Dolnick called New Americans. The series provided an opportunity to share personal stories about the refugee experience from some of Tucson's newest residents.
Recently, Bria became the after-school mentor to a group of teenagers at Catalina Magnet High School who wanted to learn how to produce radio stories. The only thing these students had in common was that they were all refugees, each struggling with the usual assortment of teenage issues while also facing huge cultural and personal transformations.
Have you ever suffered from test anxiety? What if your future hinged on doing well on a test that wasn't written in your native language, would that help to make you anxious? We'll hear how it feels to one teenage girl who moved to Tucson from Tanzania, 19-year old Forasi Tuyizere...
Listen: