(VIDEO: AZPM)
Newly seated U.S. Sen. Jeff Flake says he expects the upper chamber of Congress to be to his liking.
Three weeks after being sworn in as Arizona's junior senator, the Republican said in an interview with Arizona Week that he is slowly adjusting to not being in the U.S. House, where he spent 12 years before his election to the Senate in November.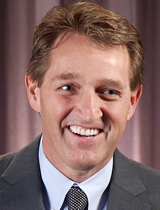 U.S. Sen. Jeff Flake, R-Ariz. (PHOTO: AZPM)
"There's a great divide right in the middle of the rotunda and having crossed that, it's odd," Flake said. "I still, when I hear or get on my Blackberry that the House is voting, I still instinctively think I'm missing something. So, it's going to take awhile to get used to."
The Senate's arcane rules - filibuster, secret holds, seniority - suit him, Flake said, because of his desire to be independent in his thinking.
"Frankly for someone like me with my leanings and my philosophy, I think it's a more comfortable place to be, because it allows for more independence," he said. "In the House, the rules are really set up to protect the majority. In the Senate, they're set up to protect the individual. So it's a much different procedure, and I think I'll like it."
The Senate's rules are there for good reasons and date back to nearly the country's founding days, Flake said, so they should not be changed easily.
He favors keeping the filibuster as is to give the minority more power. The secret hold, in which an individual senator can freeze a presidential nominee without revealing himself and without saying why, also is a useful tool, but Flake said he will use it with caution.
"I think the secret hold is often abused, though, by both parties," he said. "What I'd like to do is if I have a particular concern about a nominee or policy issue, then I'll let it be known. If there are holds that I place, I intend to make those public. I think it can be abused, has been abused. But I think these rules that allow individuals to have more power, on the whole are good.
Flake has been named to the Senate Foreign Affairs Committee, Energy and Environment Committee and Judiciary Committee.
(In the interview, Flake discussed upcoming key issues facing Congress. For more from him on immigration, the federal fiscal challenges and gun control, watch Arizona Week at 8:30 p.m. MST on PBS 6, or return here later to view the video.)