(VIDEO: AZPM)
Arizona children from kindergarten through third grade are grasping new approaches to learning this school year via the Common Core Curriculum faster than their teachers, some educators say.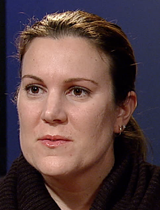 Maggie Hackett. (PHOTO: AZPM)
The curriculum is a new national approach to education that brings fundamental change to the classroom and to measuring achievement. Forty-seven states have adopted it, including Arizona, which did so in 2010 as part of Gov. Jan Brewer's educational reform strategy, called Arizona Ready.
The rollout of the Common Core Curriculum was the topic of Friday's Arizona Week broadcast, featuring interviews with several educators.
"The ability that the kids have to explain their thinking has been a huge 'aha' and kind of like a buy-in for the teachers, because their first instinct is that, oh, no, this is too hard; the kids can't do that," said Maggie Hackett, a former teacher and now an instructional coach at Los Nińos Elementary School in Tucson's Sunnyside Unified School District.
"Then when the kids are able to really eloquently explain their thinking, that kind of sells that to the teachers, and then they want to see what else they can do," Hackett said.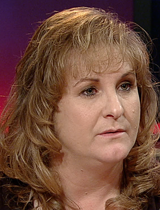 Pam Betten. (PHOTO: AZPM)
Pam Betten, the Sunnyside district's director of school improvement, agreed that the children may be running ahead of their teachers in the reform movement.
"Kids typically are better risk takers than we are as adults," Betten said. "In particular with young children, because the implementation rollout is with kinder(garten), first and second, they don't come to the work with preconceived notions that we do as teachers."
Under Common Core, critical thinking, reasoning, analysis and teamwork are taught and highly prized as key learning tools.
In language arts, there is a shift from fiction to nonfiction reading and writing as early as kindergarten, to give children not only reading skills but the kind of information they need about science, history and other areas of study that they will need as they get older.
In mathematics, the problem-solving approach is one of not only finding the correct answer, but exploring the various ways there are to get to it. In kindergarten, that can mean addition and subtraction, and in first grade, even algebra, although it is not labeled that way.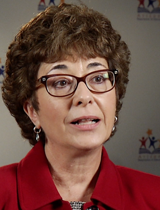 Kathryn Hrabluk. (PHOTO: AZPM)
"I want to emphasize that this is such a significant shift and focus in our education system that we all need to understand that this is an immediate project, but it's also a five-year project, and it's a 10-year project," said Kathryn Hrabluk, associate superintendent for public instruction in the state Office of Education.
Hrabluk is overseeing the curriculum rollout across the state and said there is positive, if slow, movement.
"It definitely is a work in progress, but we have been very busy in rolling out professional development to K-12 teachers throughout the state," she said.
All public school teachers will undergo training on how to use the standards in their classrooms, in a three-phase approach, she said. State officials have overseen the training of 360 educators who in turn will conduct and oversee training at local and school district levels.
Tangible measurement of results won't come until 2015 when a new standardized test is administered in place of Arizona's AIMS test, Hrabluk said.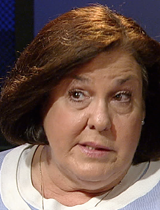 Maria Menconi. (PHOTO: AZPM)
Barriers to full implementation quickly include simply the amount of time available and the money needed for training and new materials and equipment, educators said.
"What we're wrestling with, and I'm sure the state of Arizona is wrestling with, is the materials. What should those materials be?" said Maria Menconi, interim deputy superintendent for the Tucson Unified School District.
"Should they actually be paper and pencil materials, or are we much wiser to move technologically?" Menconi said. "Technologically, of course ... but that opens the whole set of questions about" how to pay for it.
Funding for Arizona schools has been minimal for technology upgrades, with the Legislature last year not funding any of the $100 million Gov. Jan Brewer sought for "soft capital," computers and other classroom equipment and materials.