Former congresswoman Gabrielle Giffords Thursday criticized U.S. Senators who "gave into fear and blocked common-sense legislation" to require universal background checks for gun purchases.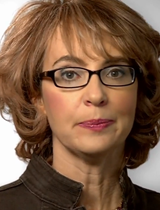 Gabrielle Giffords.
Giffords, who was shot through the head on Jan. 8, 2011, made her comments in a guest column on The New York Times op-ed page.
"Speaking is physically difficult for me," Giffords wrote. "But my feelings are clear: I'm furious. I will not rest until we have righted the wrong these senators have done, and until we have changed our laws so we can look parents in the face and say: We are trying to keep your children safe."
The Senate voted 54-46 Wednesday in favor of expanded background checks for gun purchases. But that was six shy of the number of votes required to move the legislation out of the Senate.
Giffords said senators who voted against the measure "made their decision based on political fear and on cold calculations about the money of special interests like the National Rifle Association."
She and her husband, former astronaut Mark Kelly, are the founders of Americans for Responsible Solutions, a political action committee, to lobby for gun control legislation. They have pushed their message in testimony before Congress, TV commercials and newspaper columns.
Giffords walks haltingly, has limited use of her right hand and arm and is unable to speak more than simple sentences as a result of the brain injury she suffered from the Tucson shooting. Six other people, including one of her aides, a 9-year-old girl and a federal judge, were killed that day, and 12 others were wounded.
"On Wednesday, a minority of senators gave into fear and blocked common-sense legislation that would have made it harder for criminals and people with dangerous mental illnesses to get hold of deadly firearms," Giffords wrote, "a bill that could prevent future tragedies like those in Newtown, Conn.; Aurora, Colo.; Blacksburg, Va., and too many communities to count."
Giffords called on people to help her "tell the truth about the cowardice these senators demonstrated.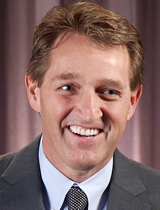 U.S. Sen. Jeff Flake, R-Ariz. (PHOTO: AZPM)
"I am asking for mothers to stop these lawmakers at the grocery store and tell them: You've lost my vote. I am asking activists to unsubscribe from these senators' email lists and to stop giving them money. I'm asking citizens to go to their offices and say: You've disappointed me, and there will be consequences."
Kelly said at a Thursday news conference in Washington that Americans for Reponsible Solutions will target an ad campaign at senators who voted against expanded background checks for gun buyers. The campaign will be part of an effort to elect a Congress made up of people who work to protect Americans from gun violence and not bow to the NRA, he said.
Arizona Republican Sens. John McCain and Jeff Flake split their vote, with McCain voting in favor. Flake, a friend of Giffords from their service in Arizona's congressional delegation, voted against it, saying the bill went too far in expanding background checks.
Kelly said earlier in the week that he would work to replace Flake in the Senate after Flake announced how he would vote. Flake was elected in November, and his term expires in 2019.
The Arizona Republic quoted Flake as saying he wants stronger background checks but not to the extent called for in the bill on which the vote was taken Wednesday. The newspaper said the senator's office had no reaction to Kelly's comments.
The Associated Press contributed to this story.