City government finances are improving in Tucson, and the budget for operations will increase about 3.9 percent starting with the new fiscal year in July, City Manager Richard Miranda said Friday.
"We don't have any cuts," Miranda said in an Arizona Week interview. "You might see some service reductions in terms of response times and those kinds of things that go along with service demands, but in terms of the budget, there were no cuts."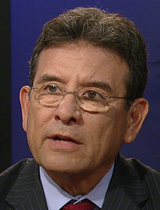 Tucson City Manager Richard Miranda (PHOTO: azpm)
He estimated the 2013-14 general fund budget, which covers day-to-day city operations, will be about $466 million, up $18 million from this fiscal year.
"The goal of the budget was to keep services at the optimal levels that we've had over the past year," Miranda said. "We've had some financial issues that we've had to deal with, primarily with the cost of those services. But at the same time, revenues have increased about 4 percent."
The city is experiencing increased sales-tax revenues and higher levels of state-shared revenues in most categories, information from the city manager's office shows.
The budget was considered stabilized for the current fiscal year after several years of reductions, including a cut of more than 18 percent in the city's workforce, from about 6,000 employees in 2009 to about 4,900 now.
But the city still has fiscal issues, Miranda said.
"I think the state of the issues we have to deal with are with the structural deficit that we're going to be facing in the future," he said. "Along with that we have some issues that we have to rectify that deal with transit operations, personnel costs ... and then we have some other issues we have to deal with in public safety in terms of pensions."
The structural deficit to which he referred involves revenue formulas that don't match spending trends, leading to potential deficits.
Other issues include uncertainty about state legislative spending actions, federal budget cuts' impact on municipal governments and the economy and ongoing increases in employee benefits costs and pensions.
Among items in the city budget expected to be approved in June by the City Council:
The same level of police staffing, 998 officers, and firefighters, 619, as in the current fiscal year.

A 5.1 percent increase in general fund spending on the mass transit system. The city's share, $43.3 million, comes from the general fund, while the rest, an estimated $91.4 million, comes from the Regional Transportation Authority, fares and other sources.

Maintaining existing parks and recreation services, including summer reopening of seven previously closed swimming pools through public-private partnerships.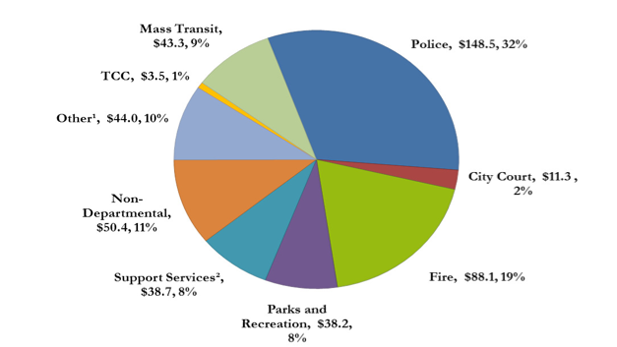 CITY OF TUCSON'S GENERAL FUND SPENDING FOR 2013-14, TOTALING $466 MILLION (PHOTO: Tucson City Manager's Office)