The band Os Mutantes has a storied history in South America.
Formed in 1966 in Brazil, and often playing instruments that they made themselves, they fused elements of psychedelic rock and Tropicália.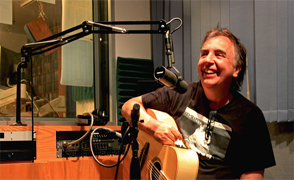 Sérgio Dias of Os Mutantes in the Arizona Public Media studios (PHOTO: Mark Duggan)
Os Mutantes enjoyed considerable success for about a decade, putting out a half a dozen albums before breaking up in 1978.
The band lay dormant for nearly 25 years, until they agreed to play a festival in 2006.
And that's when they found that they had a new generation of young fans.
It turned out that Os Mutantes had become somewhat legendary during their 25-year hiatus. It didn't hurt that they'd picked up accolades from David Byrne of the Talking Heads to Kurt Cobain, among others.
So, they headed into the studio and recorded their tenth album Fool Metal Jack, and are now touring in support of it.
They appeared in Tucson in May. The day after the show, the band's founder Sérgio Dias dropped by the Arizona Public Media studios recently to talk about the second life of Os Mutantes.
Hear the complete Spotlight Session with Os Mutantes: