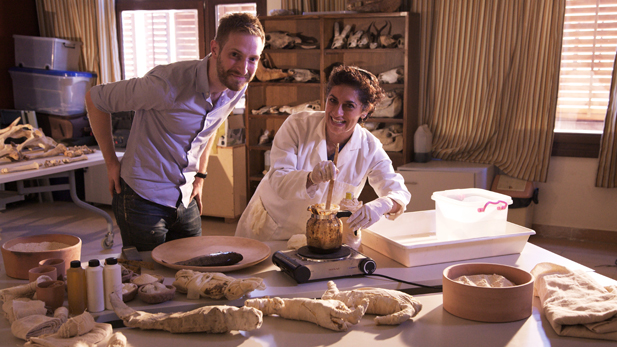 Chris Naunton, director of Egypt Exploration Soceity and Salima Ikram, professor of Egyptology, American University, Cairo. (PHOTO: PBS)
Ninety years ago in Egypt's Valley of the Kings, the greatest archaeological find in history was made: the discovery of Tutankhamen's tomb and its golden treasures. It made Tutankhamen the most famous name in ancient Egyptian history. But the real story has become shrouded in myth — with many mysteries around the tomb unsolved to this day.
This special combines the latest evidence from a team of archaeologists, anatomists, geologists and Egyptologists to build the ultimate picture of Tutankhamen. Blending 3D graphics, stylized reconstruction and action-adventure forensic investigation, the programs take a 21st-century approach to ancient history, following new scientific research and presenting fresh insights into how Tutankhamen was buried, why his tomb was the only one to remain intact and the enduring enigma around how he died.
Secrets of the Dead: Ultimate Tut, Tuesday at 8 p.m. on PBS 6.