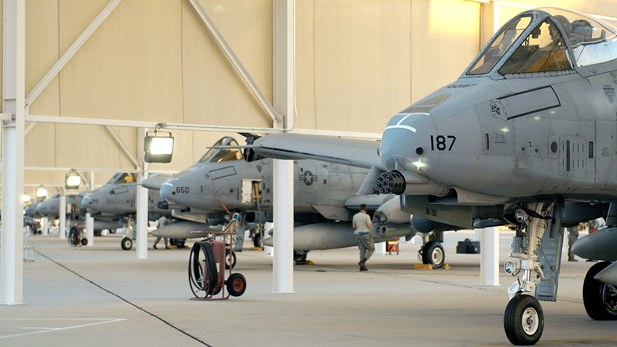 A-10s from the 354th Fighter Squadron at Tucson's Davis-Monthan Air Force Base. (PHOTO: Davis-Monthan Air Force Base)
When the pilots from the 354th Fighter Squadron returned to Tucson's Davis-Monthan Air Force Base from Afghanistan in April, they were grounded by the budget cuts known as sequestration.
Now, they are back in the air.
On Monday, the Air Force Council approved the use of $423 million to restore flying hours to nearly 20 units, including the Tucson-based 354th. The Bulldogs, as the 354th is known, fly two dozen A-10 fighter planes.
Lt. Col. Steven Behmer, the 354th's commander, said Monday that although the pilots were grounded in April they continued to train, using flight simulators and other ground-based exercises.
Despite the simulator time, Behmer said, the pilots will still take time to prepare for actual flying.
"We have a really conservative, yet robust - we call it reconstituted - program for these guys," he said, adding that it will take 10 or more flights before pilots are considered combat ready again.
Behmer said the first day of flying will be a non-demanding flight day so they can get used to the handling of the A-10 again.
"Flying fighters is an extremely perishable skill, so after two to three weeks of not flying you see your skills rapidly decrease," he said.
Three A-10 units call Davis-Monthan home, but only the 354th was grounded by budget cuts.