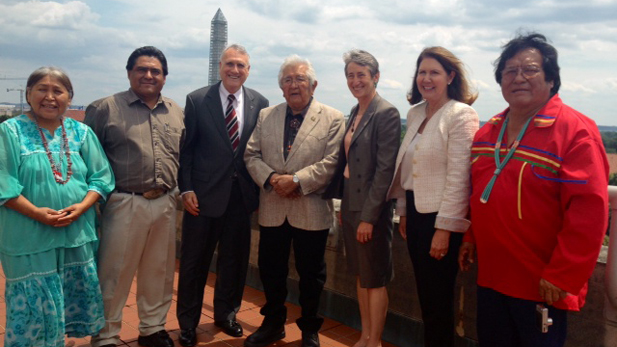 Retired US Sen. Jon Kyl (third from left), White Mountain Apache Chairman Ronnie Lupe (center), US Interior Secretary Sally Jewell (to Lupe's left) and U.S. Rep. Ann Kirkpatrick (second from right) with members of White Mountain Apache Tribe. (PHOTO: U.S. Rep. Ann Kirkpatrick's office)
Listen:
An agreement to fund a water delivery system for the White Mountain Apache Tribe was signed Tuesday by Interior Secretary Sally Jewel.
The deal will set aside $200 million for the construction and maintenance of a rural water system.
"Imagine a young child in a small village on our reservation stepping up to a kitchen sink and opening the faucet for a clean and refreshing drink of water," said Ronnie Lupe, chairman of the White Mountain Apache Tribe. "[Black water from old wells will no longer] pour from that faucet."
Jewell told Lupe that the agreement is about long-term security.
"What you have done and the tribe has done in working with other partners is going to ensure that the tribe and other parts of Arizona have clean water for another 100 years," Jewell said.
The agreement is the result of years of negotiations and federal legislation signed into law in 2010. Retired Sen. Jon Kyl and U.S. Rep. Ann Kirkpatrick worked on passage.