Listen:
About 20 college students from indigenous areas of Guatemala and Mexico visited Tucson as part of a leadership program at the University of Arizona that teaches about democracy and education in the United States.
This is the fifth year that the UA hosts the Study of the United States Institute, where young adults experience leadership in another country.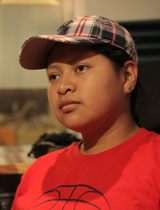 (PHOTO: Yoohyun Jung)
"What has surprised me the most, is discovering that there is another reality, that there are other people who may be similar to me but in reality, we live in different worlds," Karen Quim, a native to Guatemala and one of the students in the institute, said in Spanish. "Even though it's a different world though, we can share our experiences."
Quim, 19, studies social justice and judicial sciences in a village of less than 100,000 people in northern Guatemala. She was chosen from more than 1,000 applicants for the annual program.
The young men and women in the program, who are volunteers or community leaders in their indigenous town, will visit New York, Connecticut and Washington D.C. as part of the institute.
Quim attends school at night. During the day she helps her mother at home, volunteers at church and works with a youth empowerment organization.
"We want young people to have a place in society because many times they are marginalized and stigmatized in my country," Quim said. "What we seek is a place for young adults in government."
The goal of the institute, which is funded by the U.S. State Department, is to teach the students about civic duty, immigration, education, politics and democracy so they can implement what they learned here back in their communities, said Jesus Acosta, the institute's organizer with the UA College of Education.