Arizona's economy lost 15,100 jobs in July, leaving the state unemployment rate unchanged from June at 8.0 percent, state officials reported Thursday.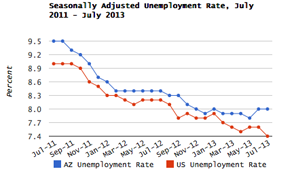 (PHOTO: AZ Dept. of Administration)
The biggest job losses were in government, at 9,600, mostly in education as summer employment waned for teachers and others. The tourism industry, known as leisure and hospitality in the state statistics, lost 4,800 jobs; trade, transportation and utilities jobs fell by 1,200; and construction jobs were down 700, the state Office of Employment and Population statistics said in its monthly report.
Seasonality was the main contributor to those job losses, and the losses were lower than what normally occurs in July, analysts said.
They noted there were 67,600 more non-farm jobs in the state last month than in July 2012. That year-over increase was 2.8 percent, the strongest in 6 ½ years, with tourism and education/health services categories leading the way.
The national unemployment rate in July was 7.4 percent.