(VIDEO: AZPM)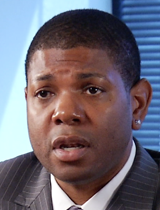 Matthew Whitaker, director of the Center for the Study of Race and Democracy, Arizona State University. (PHOTO: AZPM)
Race relations are better in American society than 50 years ago, but more progress is needed toward equality, say a historian and several civil rights activists and observers.
All spoke for Arizona Week's Friday evening broadcast, marking the 50th anniversary of the March on Washington for Jobs and Freedom, including the Rev. Martin Luther King Jr.'s "I have a dream" oratory.
The issues around race and equality reverberate in Arizona with nuances that make them somewhat different than in the South, said Matthew Whitaker, a history professor and director of the Center for Race and Democracy at Arizona State University.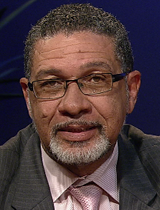 The Rev. Elwood McDowell, pastor of Trinity Missionary Baptist Church, Tucson. (PHOTO: AZPM)
"Africans Americans in this state have always had to interact with and collaborate with other people of color and whites and like-minded individuals to fight for civil rights," Whitaker said. "So, as opposed to say Selma or Birmingham, Arizona civil rights has never been a black-white issue."
That has meant in some ways an effective approach to entrenched authority, Whitaker said.
"What happens in Arizona is instructive, because the powers that be really have had to fight a war on multiple fronts," he said. "They have had to deal with indigenous issues, they had to deal with Latinos fighting for their rights, they had to deal with, obviously, new immigrants, whether that be Greeks or Jewish Americans who were coming here."
As a result, a slightly different dynamic led to some progress in the state more quickly than elsewhere, Whitaker said, citing the passage of a public accommodations law giving everyone access to places such as restaurants and hotels.
Yet, much more progress is needed in the state, said the Rev. Elwood McDowell, pastor of Trinity Missionary Baptist Church in Tucson.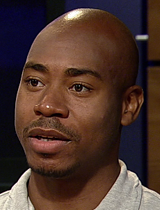 Thomas Martin, president of the Black Student Union, University of Arizona. (PHOTO: AZPM)
"We've got quite a long ways to go," McDowell said. "Right here in Arizona, some figures I heard a few years ago regarding incarceration - 13.7 percent of the population at that time were African-American males, and we were only 4.5 percent of the population...We have other problems in regards to job discrimination that come up all the time, the way people are treated at times. We are just concerned about all those problems."
One sign of progress is the increased numbers of African-Americans getting college degrees. In 1963, at the time of the March on Washington, the percentage of African-Americans with at least four years of college was 3.9 percent, and now it is 21.2 percent, according to the U.S. Census Bureau.
But it's not enough, said Thomas Martin, a University of Arizona junior majoring in marketing, and president of the UA Black Student Union.
"Here at the University of Arizona, a school of about 40,000 people, I believe there are only about 1,200 African-American students including grad students," Martin said. " ... that's not a lot of people in a school of 40,000 people. And that's a trend that's continued nationwide."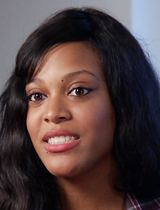 Sylvia Whitley, communications senior, Arizona State University. (PHOTO: AZPM)
The UA's African-American enrollment, based on Martin's figures, is about 3 percent. African- Americans make up 4.5 percent of Arizona's population.
Other college students interviewed for the program said that while they have seen signs of progress in society in terms of race and other categories of equality, more must be done, including maintaining a dialogue.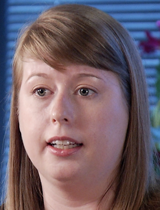 Corie Hardy, Ph.D. candidate in women and gender studies, Arizona State University. (PHOTO: AZPM)
"We need to be talking about race," said Sylvia Whitley, a senior in marketing at ASU. "This needs to be on everyone's mind. ... Doing all this dialogue about race is going to bridge the opportunity gap between people and allow us to truly be a country that is equal."
One barrier to an ongoing discussion is a societal impression since the election of Barack Obama as the country's first African-American president that the issues have been solved, said Corie Hardy, a Ph.D. candidate in women and gender studies at ASU.
"We have this very pervasive myth that we live in a post-racial America," Hardy said. "I think that extends into gender politics and sexual politics as well, where people feel like women do have equal opportunities to men, blacks do have equal opportunities with whites.
"From the statistics and different inequalities, we know that's just not true," she said. "But that idealism is very pervasive, particularly in the aftermath of the election of Obama."
Read MLK's 'I Have a Dream' speech here
View at Google Docs | Download File
Tucson Events Commemorating the March on Washington
Sunday, 6 p.m. - Prayer service, Mt. Calvary Missionary Baptist Church, 210 E. Lester St.
Wednesday, 5:30 p.m. - Commemorative march, followed by program of speakers, Armory Park, 220 S. Sixth Ave.
Watch the Rev. Luther Holland, a retired Baptist minister from Phoenix, recall his participation in the March on Washington, Aug. 28, 1963:
(VIDEO: AZPM)