Listen:
The flags of three nations fly over the historic Spanish plaza in Ajo, Ariz.
It's a small town with about 4,400 residents, two hours west of Tucson. It's considered a tri-national community because of its proximity to the Tohono O'odham Nation and Mexico, while also having a Caucasian influence.
For the past 10 years, these three cultures have been coming together to celebrate the town's diversity and commemorate International Day of Peace, a United Nations holiday.
Mimi Phillips, a high school teacher, started the community's peace day festivities. She said she hopes Ajo inspires other border communities to come together.
"I think when we bring people together and work together in creating fun it gives everybody a whole different perspective on that person might be a different color or speak a different language," she said. "It's just a lot lovely way to be together and kind of forget about differences that separates us."
Phillips said she attended an international peace conference in Spain a decade ago, and that influenced her to bring the day across the ocean to the southwestern town.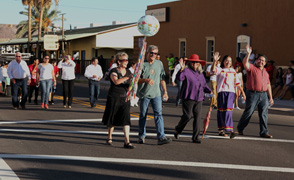 Laura Palmisano
"One of the speakers (at the conference) was Jane Goodall," she said. "And, Jane was presenting on peace. She asked everybody there to take home a pattern of a dove that was made out of five bed sheets and some recycled materials. And, she said go home and take this pattern...and on International Day of Peace fly that dove in your community."
Phillips said after her trip she spoke to the superintendent of the Ajo Unified School District about the dove pattern and her experience. He suggested students to create doves in observance of peace day. The artificial birds are now a permanent part of the community's festivities.

Phillips said the celebration originally started with about 50 students in 2004.
"During these 10 years the celebration has just become larger and larger, with this amazing mix of three cultures coming together for a parade...fun...music and food," she said.
This year a parade kicked off the festivities. Children dressed in desert animal headdress walked the route and two officers from the Ajo Border Patrol station rode their horses in the parade. Town residents and members of the Tohono O'odham Nation also marched together carrying dove puppets with 15-foot wings spans.
Forty students from a high school in Sonoyta, Mexico, about 40 miles from Ajo, participated in the parade too.
Jaime Lopez, a teacher from the high school, said they have been coming to the celebration for about eight years.
"Peace comes with other values that you have to cultivate in students like for example respect, friendship," he said.
Some of the students in the parade are part of the high school's band.
"It's a representative group of the high school of Sonoyta," Lopez said. "It's the only student band we have in the region. They play banda, it's music you can dance too. It's something regional."
The parade started at the school grounds then snaked around town for a mile and ended at the historic Spanish plaza. After the parade, people listened to Mexican and Tohono O'odham bands and enjoyed food, such as native fried bread and carne asada tacos. This year's celebration went on for two days and more than 200 people attended.
The International Sonoran Desert Alliance, a community development organization, puts on the celebration.
Phillips was the program director for the group. She says for Ajo the Day of Peace means many things.
"So often I think when we use the peace sign or when we use the peace symbol, people think of it just as the absence of war, but peace is all about relationships too," she said. "Peace is about a lot of things and it depends upon the individual."