Listen: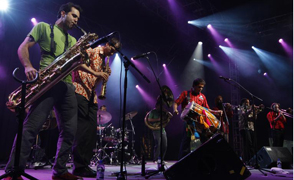 Markku Aberg
Red Baraat will be taking the stage Friday night at the Rialto Theater. The band is led by Sunny Jain, who DownBeat magazine describes as a rising star of the percussion world. The band has become well known for bringing a sound that is entirely unique to the Western world, and is tough for even Jain to describe.
"It's always interesting to describe it," he said. "I think, right off the bat, it's a global dance party that really just kind of includes everyone. That's the message of the band, inclusivity. It's party, it's letting go, it's expression."
Jain: "In terms of genre, it's rooted in the Punjabi Indian brass band tradition, but it's very much so an American sound with strong influences of jazz, funk, go-go, rock, just about anything and everything seeping into it."
The band has three percussionists, that's very unusual for Western popular music. How does it affect your sound?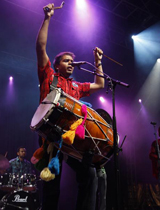 (PHOTO: Markku Aberg)
Jain: "It brings a lot of drive and energy to the band just as all of the horns do. The vision for the band from the onset was to have a group that could just take to the streets if we wanted to, but could play stages as well."
Your main instrument is the dohl. Can you describe it?
Jain: "The dohl is a big-barrel instrument that slings around my shoulder, and I play it with sticks, one really thin stick that I hit against a high side and a big stick that I play on the bass side that's a goat skin. It's synonymous with Bhangra music and Punjabi culture. Bhangra music is a traditional folk rhythm and dance that comes out of the state of Punjab, which is in the northwest Indian subcontinent. It's now split between Pakistan and India. These are the sounds that I grew up with.
Red Baraat's music is very instrument and beat-driven. Does that help with getting into the jam and improvisational groove?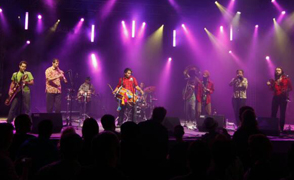 Jain: "I think so. A lot of us have that jazz background, but it certainly not a jazz group. It's certainly not just an Indian brass band. It's kind of got its foot in every genre. That allows us to get to [places like] Bonaroo, or Strictly Bluegrass or Bumbershoot, those festivals. Then it's allowed us to hit the jazz festivals, Montreal Jazz Festival, the Canadian festivals, some stuff in Europe. And then to play clubs and rock out a rock club, go hardcore and deliver that energy. But everyone's background in jazz and improvisational music gives us that ability to go wherever we want to go and travel as a band."
You, Sunny Jain, have worked with some big names: Peter Gabriel, Norah Jones, Q-Tip, Grupo Fantasma, and many others. Who's on your shortlist of people to work with?
Jain: "There's not one in particular, but I would love to see Red Baraat as a backing band with Kanye West or Jay Z. I think it'd be really magical to have the brass band up there, have that Punjabi dohl, have all that percussion and drums. I think it would be really, really cool; it'd be fun. I'd also love to work with Radiohead. They certainly had horns on the Kid A album and subsequently from there."