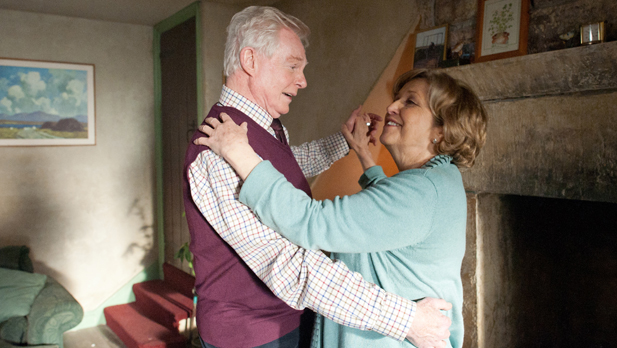 Alan (DEREK JACOBI) and Celia (ANNE REID) are jiving in the lounge at Far Slack Farm (PHOTO: PBS)
Caroline throws herself whole-heartedly into her relationship with Kate. Alan and Celia have lunch in the pub with Harry and Maurice. Alan can't decide which of them should be his best man, so he ends up asking them both! Caroline tells John that the 'someone' she's seeing is a woman. Devastated with the implications, he doesn't know who to turn to and ends up over at the farm, hoping for Gillian's sympathy. Here he gets drunk and nastily tells Celia that her daughter is a lesbian. An appalled Celia insists on going home. Drunk Gillian invites John to go to bed with her.
Last Tango in Halifax, Episode 5, airs Sunday at 7 p.m. on PBS 6.