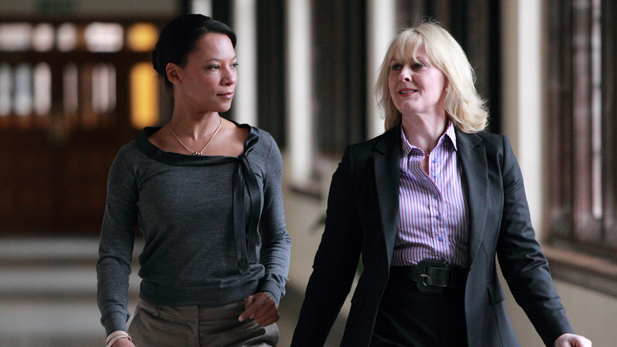 Kate (NINA SOSANYA) and Caroline (SARAH LANCASHIRE) walk through the school corridor together (PHOTO: PBS)
In the season finale, Celia reacts badly to John's revelation that Caroline is gay. When she and Alan have dinner with Caroline and Kate, she's very rude to Kate. Alan feels crushed after this, and tells Gillian that it's over between him and Celia. Back in Harrogate, a livid Caroline gives Celia a dressing down. Celia duly apologizes to Kate and begs her not to leave Caroline. The next day Celia is shocked to learn that Alan's had a heart attack. She stays by his bedside, telling him that their wedding plans are back on now she's made things right with Caroline. Against the odds, Alan regains consciousness.
Last Tango in Halifax, Episode 6 airs Sunday at 7 p.m. on PBS 6.