Listen: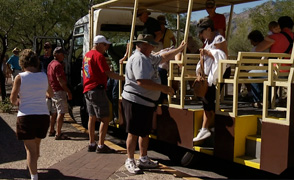 Locals and tourists getting off the shuttle at Sabino Canyon Recreation Area, 2013. (PHOTO: AZPM Staff)
Now that the federal government has reopened, so has access to public lands.
Officials from the Coronado National Forest and Saguaro National Park said Thursday they are welcoming visitors.
In Sabino Canyon, part of the Coronado, Cindy Null drove the first shuttle up the canyon Thursday morning.
"This morning when I went in all, of our regulars that normally walk the canyon were waving and welcoming us back to work," Null said. "And the folks that were on the shuttle were enjoying it tremendously."
Null said she was glad the 16-day federal shutdown is over and she's back to work.
Park rangers at Saguaro National Park East said they had a grand reopening party Thursday at the visitor's center that included a cake.