(VIDEO: AZPM)
Thanks to a bipartisan effort, the U.S. Senate was able to pass an immigration reform bill in June. But when it arrived at the House of Representatives, it hit a thick wall of resistance.
However, to the joy of immigration reform advocates, President Barack Obama and Republican Speaker of the House John Boehner this week urged Congress to revive the efforts.
During Arizona Week's Friday broadcast, three guests - representing various angles of the immigration debate - said they believe a big chunk of America is ready to fix the country's defective immigration system. They weighed out the positive and negative of the Senate bill, and explored the steps needed to see reform happen in the near future.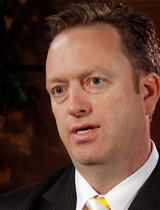 Jonathan Paton, former Republican Arizona legislator. (PHOTO: AZPM Staff)
"There has to be changes," said Jonathan Paton, a Republican and former Arizona legislator. "Most Americans believe that there has to be something (done). The current system we have isn't working. But the debate is what that 'something' should be."
The Senate bill, lobbied by the bipartisan efforts of the Gang of Eight, includes $46.3 billion for border security, a path to citizenship for the estimated 11 million undocumented immigrants living in the U.S. and new visa programs for workers.
The "something" is where opinions in the immigration spectrum have collided. Democrats and Republicans in the House can't agree on a middle ground. And House Republicans have already said that they are planning for piecemeal immigration reform, rather than the comprehensive one Democrats and other advocates seek.
A piecemeal reform doesn't tackle the problem full throttle, said Petra Falcon, executive director of Promise Arizona, an immigration rights advocacy group located in Phoenix.
"If at this point we are going to get anything done, it needs to be a bipartisan bill," she said. "You have the leader of our country and the leader of the Republican party (in the House), who are finally aligned on the fact that we need to pass a comprehensive immigration reform bill this year."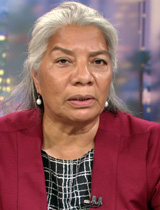 Petra Falcon, executive director of Promise Arizona, an immigration rights advocacy group located in Phoenix. (PHOTO: AZPM Staff)
She entertained the idea of looking back at the Senate version, because it gave each side a little bit of what they were asking for.
Paton said his ideal reform bill would include better border security and a program that would bring workers to fields much in need of labor, such as agriculture and construction. Such visa program is included in the Senate bill, but Paton said it is a "vehicle to create new union members, and it should be a vehicle to solve the labor problems in this country."
Edna Osuna, a student at the University of Arizona, is among those whom immigration reform could affect greatly.
Osuna was brought to the U.S. illegally by her parents when she was eight years old, and currently struggles with her status as a Dreamer.
Osuna is eligible for Obama's deferred deportation program, but said it doesn't completely benefit her because she is still unable to apply for scholarships and financial aid to cover the $14,000 a semester in tuition and other school costs.
She also is not allowed to leave the country, something she wants to do to go to Mexico to visit her ailing mother, whom she hasn't seen in seven years.
Edna Osuna, UA student and DREAMER. (PHOTO: AZPM Staff)
She said immigration reform should consist of helping children who were brought here get permanent residency and then apply for citizenship.
"We had no choice for coming here, so why should we be penalized?" said Osuna. "There are all these parties and no one can agree. One of the things is to look at people's stories, and how it is affecting us, rather than fighting."
Falcon also said compromise and coalescing are the solutions.
"it is about us coming together at the table, reflecting the values of our country and how we want to be viewed by the rest of the world," she said. "Do we want to be viewed as a country that is going to allow second-class citizenry? I don't think so. I think we are a great nation, and I think we can do great things."